Today, South Western Railway ran a special 'fact-finding' train, to investigate the potential re-opening of the Fawley branch line in Hampshire, after more than 50 years since regular passenger services ceased.
The special service follows a successful submission to the Department for Transport's 'Restoring your Railway Fund' by Hampshire County Council. This funding will allow Hampshire County Council to carry out a feasibility study into reopening the line for passenger services once more.
The service became possible through cooperation between South Western Railway and Network Rail, who had to cut back undergrowth, test condition of the track, and prepare the train crew.
Boarding the train was Rail Minister, Chris Heaton-Harris; Network Rail Chair, Sir Peter Hendy; and representatives from Hampshire County Council and Southampton City Council.
Also joining the train was Nick Farthing, Chair of Three Rivers Community Rail Partnership, who have long campaigned for the opening of the line.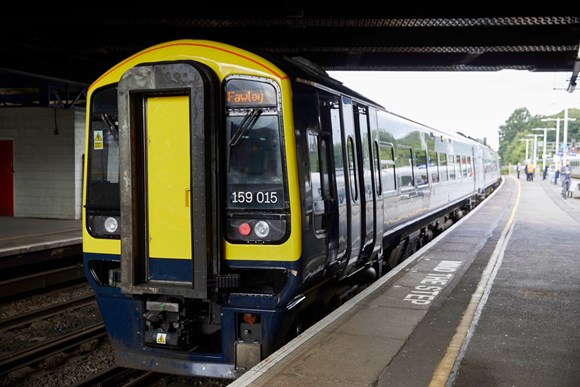 Whilst there is still work to be done before passenger services can resume, the national focus in expanding the rail network by utilising disused lines, provides hope that a return of services for this part of Hampshire maybe a step-closer to reality, helping to reconnect communities and promote public transport.
Rail Minister Chris Heaton-Harris said: "It is almost precisely 95 years since the line between Southampton and Fawley opened. Yet, due to the Beeching cuts, the last time passengers were able to travel this line England were lifting the Jules Rimet.
"While we can't guarantee sporting supremacy again, we've been absolutely clear that we are determined to reconnect communities and level up infrastructure across the country. Taking steps towards restoring passenger journeys on lines like this demonstrates that commitment.
"The progress towards developing a business case for this restoration is testament to the energy and enthusiasm of local campaigners, and I share the passion they and other communities have to reopen and restore local lines."
Mark Hopwood, Managing Director of South Western Railway said: "Branch lines are vital to connect local communities, with many now out of use. Exploring the possibility of reopening disused lines for rail passengers is vital for us to reconnect our communities again."
Network Rail Chair Sir Peter Hendy said: "Railways have a huge role to play in building environmentally-sustainable economic and social development and places like Marchwood, where the railway is still in place, are perfect examples of where we can help local communities grow. It's great to see a passenger train down this line again and this has been a really useful event for our partners to understand what we might have to do to bring trains back permanently."
Councillor Rob Humby, Deputy Leader of Hampshire County Council and Executive Member for Economy, Transport and Environment, said: "Hampshire County Council was very pleased that our bid to the Department for Transport's restoring Your railways Fund was successful and we now look forward to working with the Department for Transport, Network Rail and stakeholders to review the evidence and undertake a business case for re-introducing passenger rail services on the Waterside line."