Customer update: Stonehaven-Montrose recovery works
The railway line between Stonehaven and Montrose will remain closed until Monday February 22 as engineers work to complete repairs on a damaged bridge between the towns.
The rail bridge, located three miles north of Carmont, has been closed since January 15 after masonry fell from the sidewall on its southbound side.
Full structural assessments on the bridge – which was built in the 1840s – have now been completed by our specialist engineers and plans are in place to repair the bridge and reopen the railway for passengers and freight customers.
Engineers will be working around-the-clock to fix the damaged parapet (sidewall) and also provide additional strengthening of the bridge deck beneath the southbound line.
To do this engineers will first install additional concrete supports on the bridge deck to help retain and support the track and ballast.
The parapet wall will then be reconstructed and ties installed on the bridge to further strengthen the masonry on the structure. Once those works are complete, the ballast and track will be relaid.
Network Rail's capital delivery director for Scotland's Railway, Kris Kinnear, said: "We're working hard to quickly deliver these repairs and reopen the line, but these are significant engineering works and will take time to complete.
"The rural location of the bridge and the fact our engineers will be working at considerable height in an exposed location also mean this project is a challenging one for our team.
"We are working around-the-clock to safely reopen the railway as soon as we possibly can for our customers."
The bridge was last inspected in October 2020 and also received a detailed examination in March 2018.
There was no significant deterioration in its structural condition found in these inspections.
Investigations to establish the cause of the parapet's failure are ongoing.
Network Rail will invest over £300m between 2019 and 2024 renewing and refurbishing bridges and spends £10m each year on inspecting structures.
Additional inspections have also been carried out as a precaution on other similar bridges between Aberdeen and Montrose, and elsewhere on Scotland's Railway.
Essential maintenance on Heart of Wessex line to begin in February
The railway line between Dorchester West and Castle Cary will be closed for five days in February for vital maintenance.
Between Monday 15 and Friday 19 February buses will replace trains between the two stations while engineers carry out a package of work which will help to maintain reliability on the Bristol to Weymouth line, also known as the 'Heart of Wessex' line.
South of Yeovil Pen Mill station, engineers will remove loose material off the rockface of the railway cutting, install 250 metres of new lineside fencing and install equipment to monitor the cutting remotely.
Mark Killick, Network Rail Wessex route director, said: "This vital work will improve the reliability of the railway between Dorchester West and Castle Cary, which provides an important route for local communities.
"Closing the railway for five days means we can complete more work than over a series of weekend closures and would like to thank passengers for their continued patience as our engineers carry out this much-needed maintenance."
James Wilcox, Great Western Railway station manager for Wiltshire and Dorset, said: "While anyone choosing to travel should follow the latest Government advice, we have been working hard to make sure that those who do need to travel can be confident to do so safely, and that includes running as many trains and carriages as is necessary, as well as enhanced cleaning and social distancing measures.
"If you do need to travel, please do, plan ahead, reserve a seat and be considerate of others."
During the closure, teams will take the opportunity to deliver additional maintenance.
Yeovil Pen Mill signal box, which controls signalling between Castle Cary and Dorchester West, is one of the country's few remaining semaphore signal boxes, using levers to switch sets of points and lower and raise signal arms. At Yeovil Pen Mill station, engineers will replace sleepers that support the rails; a delicate task as teams will need to navigate historic signalling rods positioned alongside the railway and used to control the station's semaphore signals.
Structural engineers will also use the time to conduct a thorough inspection of a bridge crossing the River Yeo, using cameras mounted on a Road Rail Vehicle (RRV).
Passengers should note that a separate closure will see buses replace trains between Bournemouth and Weymouth on Saturday 20 and Sunday 21 February.
£500k revamp at Eridge station to improve passengers' journeys
Passengers will now benefit from improved platforms at Eridge station in East Sussex which follows on from the £1.8m footbridge and canopy upgrade last year.
Eridge station serves the rural district in East Sussex with Southern trains services via the Uckfield branch of the Oxted line. Enhancements at the station include refurbishment of the existing platforms which will provide safer journeys for people who need to travel.
The drainage system has also been upgraded to prevent future flooding and improve the reliability of the railway. These works are the latest upgrades to be delivered at the station which will improve the passenger experience for essential travel into London.
Paul Harwood, regional investment director for Network Rail, said:

"We strive to put passengers at the heart of our approach to running the railway, and upgrading the platforms at Eridge station is aimed at giving better journeys to the people who need to travel on this route.

"Our engineers and contractors have worked in challenging circumstances at Eridge and these works compliment the recent £1.8m upgrade of the footbridge."
These upgrades will also be complemented by Govia Thameslink Railway's (GTR's) comprehensive refurbishment of the station buildings, which includes a waiting room being restored with the help of a £30,000 grant from the Railway Heritage Trust. To give the station a heritage feel, GTR are using the colours of Spa Valley Railway, who run services from their own dedicated platform at Eridge.
Angie Doll, Managing Director for Southern and Gatwick Express, said:

"On behalf of our Eridge customers, we welcome Network Rail's major investment in the station's infrastructure. In conjunction with their work, as part of our network-wide, multimillion-pound station improvement programme we're giving Eridge a full refurbishment inside and out, including a welcoming new heritage-style waiting room, more seating and redecorated toilets. I would also like to say a special thank-you to the local community who we're working very closely with on the project, and to the Railway Heritage Trust for their important financial support and design advice.

"If you have to travel during the current coronavirus restrictions, please remember the rules: hands, face, space."
Network Rail will be back at Eridge later this year to deliver an accessibility scheme as part of the Government's Access for All Programme.
Liverpool Street station lights the darkness for Holocaust Memorial Day
The lights outside one of London Liverpool Street station's main entrances have been turned purple today, Wednesday 27 January, to mark Holocaust Memorial Day.
The theme for the day this year is "Be the light in the darkness" and the purple lights at the station are intended to encourage remembrance and send a message of solidarity.
By taking part in Holocaust Memorial Day, the team at Liverpool Street are also helping to commemorate the role of the station and the wider Anglia railway in the Kindertransport.
Kindertransport is the name given to the organised rescue mission which brought 10,000 mainly Jewish children to the UK from Nazi Germany, Austria, Czechoslovakia and later Poland between December 1938 and September 1939.
It was not possible for the children to leave from German ports, so most travelled by train to the Netherlands from their home countries, where they boarded cross-channel ferries to the port at Harwich.
If they had foster homes or hostels to go to, the children would then go by train to Liverpool Street station, where they would be met by their new families, or the organisations that had arranged their accommodation.
Some children without prearranged foster families did not go immediately to London, but spent their first weeks at temporary holding centres.
Liverpool Street station has two permanent memorials recognising its role as the final stop on a long journey to safety for the Kindertransport children.
One of the memorials can be found on Hope Square, which is the main entrance on Liverpool Street itself. It is called The Arrival and is part of a series of five sculptures created by Frank Meisler, who himself came to Britain as a Kindertransport child. The five sculptures are installed across Europe along Meisler's personal route to safety.
The other memorial, with the boy and the girl, is by the entrance to the tube on the main concourse. This was created by Flor Kent and is called Fur Das Kind (For the Child / Pro Dítê). There are two other sculptures in the series, which are located at stations in Vienna and Prague.
In September 2009, The Winton Train arrived at Liverpool Street station from Harwich as part of a commemorative train journey from the Czech Republic. This was organised as a tribute to Sir Nicholas Winton, who supervised the rescue of 669 children in an operation later known as the Czech Kindertransport.
Emma Watson, Network Rail station manager for Liverpool Street, said: "We have lit up in purple to tie in with the Holocaust Memorial Day theme of being a light in the darkness.
"Today we're also taking an extra moment to think of the children who finally reached safety here at our station in 1938 and 1939, as well as the families left behind. The Kindertransport is an incredibly important part of our history and we are fortunate to have two poignant sculptures that remind us of this every day."
Dawn Waterman, archives and heritage manager at the Board of Deputies of British Jews, said: "It's great to see Network Rail marking Holocaust Memorial Day at Liverpool Street station.
"My father was a Kindertransport child himself and travelled from Harwich to Liverpool Street at the age of eight. He was excited to be travelling on a train with so many other children but he had no idea then that he would never see his parents again. But at least he was safe, unlike millions of others. It's absolutely crucial that we remember the horrors of the Holocaust, as well as those people who went above and beyond to help their fellow humans."
Emergency rail works at Ingatestone to continue throughout the week
Emergency works to stabilise the embankment at Ingatestone on the Great Eastern Main Line will continue for the rest of the week after further issues were found during remedial work.
The line out of London to Norwich will remain closed, with services operating in both directions on the line towards London. This means the number of services will be reduced on the main line and branch line services to Clacton, Braintree, Southend, Colchester Town and Harwich are also affected.
On Friday 22 January, the embankment became unstable, causing a dip in the tracks. Network Rail's engineers have been working around the clock to make repairs, but further works are now required.
A further update will be sent out on Friday (29 January). Passengers are advised to check Greater Anglia's website or app for the latest travel information. Passengers should also follow government advice and only travel for work if essential or for other legally permitted reasons.
Ellie Burrows, Network Rail's route director for Anglia, said: "I understand how frustrating it is that the work is taking longer than expected and I'm sorry for the disruption this is causing to passengers. We are doing everything we can to carry out the repairs quickly so that we can safely reopen the line.
"I know that this has been very disruptive for passengers and for those living nearby and I'd like to thank everyone for their patience. I'd like to say a special thank you to those who have worked with us to give us access to the site and enable us to carry out these emergency repairs."
Jamie Burles, Greater Anglia Managing Director, said: "We would like to thank customers for their patience while engineers work to repair the railway, and we are very sorry for the inconvenience caused. Although the work is taking longer than anticipated, safety is our top priority.
"We are running a reduced timetable for all services which travel through Ingatestone. Customers should check before they travel and allow more time for their journey. We will keep our website updated with any changes to our services.
"Anyone who is affected by the delays can claim compensation at www.greateranglia.co.uk/delayrepay
"Government travel advice is currently to stay at home and only travel for legally permissible reasons such as work and medical appointments. Information about what we are doing to keep passengers safe during the pandemic is on our website."
No trains into London south of Potters Bar and Gordon Hill this weekend as work ramps up on the East Coast Upgrade
Network Rail, Thameslink and Great Northern are reminding passengers making essential journeys on the East Coast Main Line that no trains will run south of Potters Bar and Gordon Hill, to or from London King's Cross, Moorgate or St Pancras via Finsbury Park this Saturday and Sunday, 30 and 31 January.
Over the weekend, teams are continuing with essential work to install overhead line equipment and improve the signalling in and around King's Cross, which will bring more reliable journeys for passengers. This work, which is part of the £1.2billion East Coast Upgrade, is being carried out safely, in line with Government guidance.
There will also be changes to services on each weekend throughout February, and no trains to or from London King's Cross on Friday 26, Saturday 27 and Sunday 28 February, as major work takes place ahead of a longer partial closure at the station between Monday 1 March and early June. During this time, teams will modernise the track layout, making it easier for trains to enter and exit the station.
The £1.2billion East Coast Upgrade is the biggest investment in the route in a generation and will bring a more modern, reliable railway for passengers, transforming journeys between London, Peterborough and Cambridge.
People must continue to follow the latest Government guidance and stay at home, except for limited reasons. Those who must travel are strongly advised to check their journeys via National Rail Enquiries, at EastCoastUpgrade.co.uk or on their train operator's website and allow plenty of time.
Saturday 30 and Sunday 31 January – There will be no trains at all south of Potters Bar and Gordon Hill, to or from London King's Cross, Moorgate and St Pancras International via Finsbury Park.
Passengers travelling between London and Peterborough/Cambridge/Stevenage/Welwyn Garden City will need to use replacement buses, which will connect with alternative rail and London Underground services.
Buses will also replace trains between Peterborough and Hitchin.
Sunday 7 and Sunday 14 February – There will be a reduced service to and from London King's Cross. No services will run between Peterborough and Hitchin, with buses replacing trains
Sunday 21 February – There will be a reduced service to and from London King's Cross. No trains will run between Stevenage and Alexandra Palace.
Friday 26, Saturday 27 and Sunday 28 February – No trains will run to or from London King's Cross, Moorgate or to or from St Pancras International via Finsbury Park.
Ed Akers, Principal Programme Sponsor for Network Rail's East Coast Upgrade, said: "We're making vital improvements at King's Cross over the next few weeks, ahead of a longer partial closure at the station, when we will be changing the layout of the track to bring more reliable services for passengers.
"The improvements being carried out this weekend to the overhead lines and signalling system can only be done safely when there are no trains on the lines. This means passengers who must travel should check their journeys and allow plenty of time.
"We want to thank people for their continued patience as work gathers pace on the East Coast Upgrade."
Jenny Saunders, Customer Services Director for Great Northern and Thameslink, said: "Due to the pandemic and Government restrictions, no-one should be travelling unless their journeys are absolutely essential. For those who have to take the train, this weekend will be particularly difficult, and I would urge you to check the latest advice at National Rail Enquiries before heading out to the station."
Memorial plaque to remember those lost in Abermule train collision on 100th anniversary
A memorial plaque to remember the 17 people who died in the Abermule train collision, which happened 100 years ago today, has been unveiled.
On 26 January 1921, two trains collided head-on on the Cambrian line, killing 17 people in what remains one of the biggest rail collisions in the UK.
To mark the centenary, wreaths have been laid in the village on behalf of Network Rail, Abermule with Llandyssil Community Council, Powys County Council and Machynlleth Town Council.
A commemorative plaque, sponsored by Network Rail, Transport for Wales & Abermule with Llandyssil Community Council, has also been donated to the community, remembering those who lost their lives.
The plaque, made by local stonemason M.E & A Hughes Monumental Masons, is the first permanent and physical reminder of the collision in the town.
A memorial gathering had been planned by the community council and events were due to be held at the local school, however, due to the coronavirus pandemic, this could not go ahead and will be rearranged for a later date.
Instead, representatives from Network Rail and Abermule Community Council attended the site, near to the old Abermule Station to lay the wreaths, in compliance with social distancing measures and government guidance.
Railway Mission's Chaplain for Wales, Andy Hall, also recorded a ceremonial reading in memory of the victims.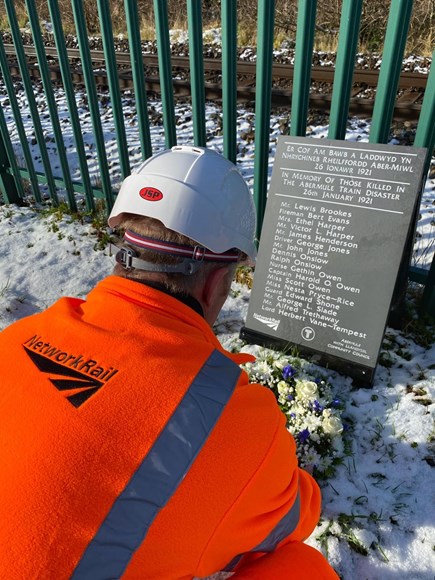 Bill Kelly, route director for Network Rail Wales and Borders, said:
"It's so important we pause and reflect on those events at Abermule a century ago – when 17 people lost their lives.
"Learning from past accidents is fundamental to the way we operate the railway today and it's vital we remind ourselves of what happened in the past – how far we've come – and areas where we could still improve.
"This new, permanent memorial in the community of Abermule will serve as a reminder to future generations of those who tragically lost their lives."
James Price, Transport for Wales CEO, said:
"The events of 26 January 1921 are a reminder of the fragility of life and the vital importance of safety on the railway.
"Our thoughts remain with the people of Abermule and the relatives of those involved 100 years on from this tragic event."
Councillor Gareth Pugh, on behalf of Powys County Council, said:
"As part of the Abermule community, I would like to express both my personal condolences and the deepest condolences of the local authority, Powys County Council, to both the victims and families of the railway disaster.
"It is part of our history and entirely appropriate that 100 years on we mark that tragic event in which 17 people lost their lives."
Jane Rees Chair of Abermule with Llandyssil Community Council, said:
"The Community Council welcomes the joint venture with Network Rail and Transport for Wales to create a lasting memorial to the 17 passengers and railway workers, who lost their lives in the train crash near Maeshafren on 26th January, 1921.
"Our thoughts are with their surviving relatives, many of whom were local to Montgomeryshire.
"It is a shame that we could not have a memorial event due to the coronavirus pandemic.
'The memorial plaque will be sited in the village at a later date, when we can arrange an event with the opportunity to view the project work by the local school children."
Terry Wain, a Trustee of Abermule Community Centre said:
"We are all very grateful to Network Rail, Transport for Wales and Abermule with Llandyssil Community Council for jointly funding the memorial plaque.
"The events of 100 years ago were tragic in the extreme and sympathy for the victims is still very real.
"After all, they had survived World War 1 and the 1918 global pandemic only to perish in such a devastating and completely avoidable disaster.
"This plaque will serve permanently as Abermule's memorial to the victims."
Wales Chaplain Special Reading
Wrapped up in that fateful moment Lives ended,
lives changed; In the blink of an eye.
Through grief, loss and mourning: Scarred memories transcend
The how, where, and why.
Etched for all time,
On landscape and mind,
The tragic event Unfolds and unwinds,
As we seek to remember a long century on
the 36 injured
And 17 gone.
Note: The plaque, donated by Network Rail, TfW and the community council, will be stored in a safe place in the villagebefore it is installed in a permanent location (TBA). 
Network Rail volunteers help set up mass vaccination facility in Exeter
A team of Network Rail workers have played their part in tackling COVID-19 by volunteering to help set up the new large-scale Vaccination Centre near Exeter, Devon.
Between Monday 18 and Friday 22 January, workers from Network Rail volunteered their time to unload around 100 pallets of equipment from articulated lorries and set it up inside the main building at Westpoint Exeter.
Volunteers worked tirelessly completing a range of tasks such as assembling furniture, laying out signage and constructing the vaccination pods to help ensure the facility, just off the M5 motorway in Exeter will be ready to open on today (Tuesday 26 January).
This latest contribution by Network Rail follows its volunteering efforts last year when volunteers helped transform a former DIY store in Exeter into the region's new Nightingale Hospital.
Nick Millington, Network Rail's director of Safety taskforce, coordinated Network Rail's volunteering efforts, said: "We are so proud to have played a part in helping set up this hugely important Vaccination Centre in Exeter.
"Throughout the pandemic, colleagues right across Network Rail have worked tirelessly to help keep our trains and stations running safely for the benefit of our passengers, and we were delighted to have the opportunity to continue contributing towards overcoming COVID-19 away from the tracks.
"It was immensely rewarding to have helped build the Nightingale Hospital in Exeter last year and to see so many colleagues pull together again in a similar fashion speaks volumes of the selfless individuals who have contributed their time to get this vaccination facility up and running."
Mike Gallop, Network Rail's Wales & Western interim managing director, said: "I would like to commend my Network Rail colleagues for their dedication and commitment in supporting the NHS in Devon set up this life saving Vaccination Centre.
"I look forward to seeing the first people be vaccinated and am truly hopeful this facility helps protect the people of the south west from COVID-19 and enables all of us to return to normality as soon as is safely possible."
Darryn Allcorn, Devon's lead chief nurse, said: "We're very grateful to all the people from Network Rail who volunteered to help set up the Vaccination Centre at Westpoint. It was a fantastic effort by all, and our new centres mean we are on track to further increase the scale and pace of the vaccination programme in Devon."