Chepstow residents invited to find out more ahead of £25m summer resilience upgrade on Newport-Gloucester line
Buses will replace trains from Monday 18 July – Saturday 3 September while major work to upgrade the line is delivered.
Communities in Chepstow are being invited to a drop-in event to find out more about plans to improve resilience and upgrade the track on the railway between Newport and Gloucester. The drop-in session takes place next Wednesday 25 May, between 5.30pm and 8.00pm at the Drill Hall, Lower Church Street, Chepstow.
Connecting South Wales with the Midlands, west of England and north of England, the Gloucester-Newport line is a vital passenger and freight link, but its position alongside the Severn Estuary means it's exposed to rain, wind and sea.
Climate change and more frequent extreme weather events have led to five major landslips in the last two years alone. This has devastated the line with extended closures of the railway and speed restrictions – estimated to have impacted more than 200,000 trains.
The £25m upgrade will include the removal of approximately 30,000 tonnes of material from the cliff face along a three-mile stretch of railway near Lydney, in the Forest of Dean. A state-of-the-art mesh and bolt system will then be installed to protect the railway from falling debris. 
The railway will be closed between Lydney and Gloucester from Monday 18 July to Saturday 3 September. From Monday 18 July to Saturday 30 July, the closure will extend to Severn Tunnel Junction, as work will also be undertaken to renew the railway track over Chepstow Viaduct, on the River Wye.
Network Rail is working with Transport for Wales and CrossCountry to keep passengers moving while work is underway. Buses will run every hour between Gloucester and Newport, stopping at all stations. A bus service will also operate between Gloucester and Severn Tunnel Junction, during the two-week closure of that section of the line.
Cross Country train services will run Nottingham – Birmingham New Street – Gloucester. Customers travelling between the Midlands and Cardiff Central can travel on GWR train services via Bristol Parkway.
Residents and passengers with any questions about the work can drop into the Chepstow event any time between 5.30pm and 8pm, where members of the Network Rail project team will be on hand with more information.
Passengers are advised to check before they travel at nationalrail.co.uk.
Bill Kelly, Wales & Borders route director at Network Rail said: "This is a vital passenger and freight link so we must act now to protect the line from extreme weather events and our changing climate.
"We've carefully planned this work to take place during the summer holidays to minimise disruption for those who rely on the line for work and education. I'd like to thank everyone for their patience as we work to protect this important stretch of railway and make passengers' journeys more reliable."
Jan Chaudhry van der Velde, Managing Director of Transport for Wales, said: "Work on the rail infrastructure to improve weather resilience has become more urgent, as climate change effects and severe weather have disrupted train services on several occasions in recent years.
"We will be providing buses in place of trains during this work to keep passengers moving, and thank passenger in advance for their patience. The long- term benefits will bring more reliable train services. During the works, we ask customers to check before setting off at https://www.journeycheck.com/tfwrail/."
CrossCountry's Regional Director, Tom Birch, said: "This line is crucial for both local rail journeys and connectivity between Wales and England, so ensuring its resilience against weather-related events is important for everyone.  We'd like to thank customers for their patience while the works are completed and look forward to the quick return of our regular train services."
Cot Hill bridge in Plympton reopens following essential structural repairs
Network Rail has reopened Cot Hill bridge in Plympton, Devon, today (Friday 20 May) following essential maintenance and repair work.
The century-old bridge was strengthened to allow for use by heavy goods vehicles (HGVs) with repairs made to the structure and a protective coat of paint added to the steelwork.
Network Rail's engineers began work on Sunday 3 January, working throughout the night during weekends and all day during the week.
A succession of named storms in February caused extensive damage to a protective plastic shell covering the work site, unfortunately delaying the completion of this work with engineers working extra weekend shifts to finish the project as quickly as possible
Dawn Welsh, Network Rail project manager, said: "This vital maintenance and strengthening work will allow for HGVs to make safe use of the bridge without the need for a diversionary route, while improving traffic flow in the area.
"I'd like to thank local residents for their patience, especially given the difficulties encountered during storms Eunice and Franklin. The understanding of the local community has been very much appreciated."
Multi-million-pound upgrade begins on Hope Valley railway line
Ground-breaking work on a £145m rail reliability upgrade between Manchester and Sheffield will start later this month.
This essential work will remove several bottlenecks on the Hope Valley line to allow passenger trains to overtake slower freight trains and improve reliability, helping people get to their destinations on time.
On Sunday 29 May, and every weekend throughout July, Dore & Totley, Grindleford, Bamford and Hathersage stations will be closed to allow Network Rail and contractor VolkerRailStory Joint Venture to begin building an additional railway line and make key station improvements.
Passengers are being urged to plan ahead with National Rail to keep their journeys on track.
The work is part of a £145m package of improvement and includes:
A new platform and accessible footbridge with lifts at Dore & Totley station
A railway loop between Bamford and Hathersage
A new overbridge at Hathersage West, replacing the current foot crossing to improve safety
Signalling improvements along the line to improve reliability
Platform extensions to allow for more carriages on services
Dore & Totley station car park will also be partially and fully closed at different periods over the next three months. Alternative parking spaces will be available at Abbeydale Sports Club and local businesses will remain open and accessible throughout.
Hannah Lomas, Principal Programme Sponsor for Network Rail, said: "We're so pleased to see this major work begin – it'll make Hope Valley stations and train services better, and improve reliability for passengers in the future.
"There will be some changes to services and car park closures while our work takes place, so I'd like to thank passengers for bearing with us and apologise for any inconvenience."
Tony Baxter, Regional Director at Northern, said: "This work will improve Hope Valley stations and services and we are delighted to be working with our partners on this project.
"We are sorry for any disruption during the improvements and our customers can be assured that both Northern and Network Rail will do everything possible to minimise the impact of the work and deliver alternatives that keep people on the move.
Chris Nutton, Major Projects Director for TransPennine Express, said: "These works are a vital step towards delivering better services across the Pennines between Sheffield and Manchester, improving the infrastructure to help make our customers journeys more reliable and upgrading stations we serve.
"While these engineering works take place on the Hope Valley line, there will be a number of changes to TransPennine Express services, and we'd advise our customers to check carefully for the latest advice before they travel."
Darren Lockwood, Project Director from VRSJV, said: "We thank the local community for their patience and understanding while we carry out these essential upgrade works on the Hope Valley line. The work plays an important part in facilitating this important investment in Northern travel infrastructure."
Network Rail thanks residents and motorists as Torbay Road bridge reopens
Network Rail is thanking the community of Torbay, Devon, for their patience and understanding following the delayed reopening of the road over Torbay Road bridge this morning (Monday 23 May).
Work to replace the life-expired bridge which provides a link for pedestrians and vehicles from the communities of Torquay and Paignton to cross over the railway via Torbay Road, was originally planned to be completed in March. However, supply chain issues and difficulties working around the existing BT cables pushed the completion date back to May.
The bridge has this morning reopened to two-way traffic and at the end of the week a temporary pedestrian walkway on the south side of the bridge with protective barriers will open to allow pedestrians to cross the bridge. This will remain in place for the entire duration of the English Riviera Airshow in Torbay over the Jubilee weekend.
Following the Jubilee weekend, the temporary walkway will then close on the evening of Sunday 5 June to allow Network Rail's contractors, Dyer & Butler, to install the new permanent walkways. During this time, a pedestrian diversion route will be in place.
From Monday evening, the bridge will be closed overnight to both traffic and pedestrians to allow Dyer & Butler to complete the construction of the bridge parapets and install the new permanent pedestrian walkways. The installation of the permanent walkways and construction of the bridge parapets is expected to be completed by the start of August.
Stuart Calvert, Network Rail Capital Delivery Director, said: "I would like to firstly apologise for the delay in completing this work to replace Torbay Road bridge and extend our sincere thanks to the local community for their patience and understanding during this time, which we know has caused disruption for longer than anticipated.
"We pride ourselves on our punctuality and efficiency when undertaking complex projects such as this, however on this occasion we regrettably have not maintained these high standards owing to a number of unforeseen challenges which resulted in delays to the project. We'll be working closely with our contractors to review the difficulties we faced, taking these lessons on board and working to ensure we don't face similar issues in the future."
Kevin Foster, Member of Parliament for Torbay, said: "It is a relief all round to hear these works are now coming to an end and one of Torbay's key roads will be re-opened in time for the Jubilee Weekend and Airshow. I have appreciated the weekly updates from the Network Rail team as they brought this job to a belated close and now look forward, like many other constituents to being able to travel across the new bridge from Monday."
Councillor Mike Morey, Cabinet Member for Infrastructure, Environment and Culture at Torbay Council, said: "This project has taken a lot longer than expected and I am sure like us, residents who have been living around these works and who travel between Torquay and Paignton, are breathing a sigh of relief that this main and popular road is now opening to vehicles. The Leader, myself and the local Ward Councillors will continue to meet with Network Rail to receive updates and push for the remainder of the work to be finished as quickly as possible."
With the road now open to traffic, pedestrians are able to use a temporary footpath on the south side of the bridge until Monday 30 May, when the new footpath will be open for public access.
Works to reopen Essex footbridge start today
Works to repair a footbridge that connects Durham Road in Langdon and Mandeville Way in Laindon Hills, Basildon, start today (Monday 23 May).
The bridge, which carries pedestrians over the rail line between London and Fenchurch Street, was closed in October 2020 after inspections carried out by Network Rail showed it was deteriorating quickly and no longer safe for people to use. Both the age of the structure and the local geology has caused the bridge to move and fracture, making it unsafe for pedestrians.
Emergency remedial work was completed shortly after the bridge was closed but permanent repairs are required in order to safely re-open the bridge.
The work is expected to take eight weeks and the bridge will reopen in the summer. The rail line will not be affected by the work.
Ellie Burrows, Network Rail's route director for Anglia, said: "This bridge has been closed for much longer than anyone wanted, or expected, for which we're sorry. The condition of the bridge means complex repairs are required and these types of repairs take time to plan and complete.
"I am pleased to be able to say that the work has started today and this will enable us to reopen the bridge in the summer. I'd like to thank residents for their patience while we carry out these repairs."
Reston station welcomes first passenger services
Passengers services today called at Reston station for the first time in almost six decades.
The reconnection of the Berwickshire village to the national rail network follows completion of work to construct the station as part of a £20m of investment from the Scottish Government to boost the local transport network.
The first passenger service since 1964 – the 05.29 TransPennine Express (TPE) from Edinburgh Waverly called at Reston at 06.16 completing the Village's return to the railway.
Jenny Gilruth, Scottish Government Minister for Transport travelled to the Scottish Borders village aboard the 09.33 TransPennine Express service to Reston.  The train's arrival was greeted by a piper and Ms. Gilruth was met by a party of children from Reston Primary school.
To mark the first day of service, pupils from Reston Primary then travelled to Edinburgh courtesy of TPE to experience travelling by train for the first time from their home station.
Reston will be served by eight trains per weekday in each direction mainly operating between Edinburgh and Newcastle. Seven services will be offered by TransPennine Express with the other being offered by London North Eastern Railways.
The new station, which sits on the East Coast Mainline, boasts 270m platforms which cater for 10 carriage trains and is fully accessible with step free access from ground level onto platform 1 and across the railway via a footbridge with lifts.
It will serve the village and wider Berwickshire area and will enable easy access to Edinburgh and Newcastle and onwards across the national rail network. As well as improving transport connectivity, it will help transform the economic outlook of the area it will serve.
Jenny Gilruth, Scottish Government Minister for Transport said, "I am delighted that work to construct the new Reston station is now complete ahead of services calling at the station for the first time today.
"Our Programme for Government made a commitment to decarbonising Scotland's Railway and growth in rail use is an essential part of decarbonising the total transport mix.
"The £20m investment provided by the Scottish Government for Reston station and investment in other new stations is one way to make travelling by rail an easier option and enable more people to choose the sustainable transport option as an alternative to using the car.
"The new Reston station will provide a step-change in provision of public transport in the area and will help transform Reston and the surrounding communities that will benefit from the transport interchange and the improved connectivity it delivers".
Alex Hynes, managing director of Scotland's Railway said, "It is part of our commitment, alongside the Scottish Government, to expand the rail network and open-up Scotland's Railway to new communities.
"The opening of the new station at Reston is an exciting development that has the potential to transform life for local people and the communities it will serve."
"This station will create new social and economic opportunities for people in the Village and in the surrounding area and we look forward to seeing the positive impact the railway will have in years to come."
Matthew Golton, Managing Director at TransPennine Express, said, "We are honoured that our 6.16am service from Edinburgh was the first service to stop at Reston Station in more than 50 years and we're delighted that this service, has boosted connectivity across communities in the Scottish Borders and Northumberland.
"It's fantastic to see that hundreds of customers have already bought advanced tickets to travel from Reston Station and we can't wait to welcome them on-board so they can experience travelling on our modern Nova trains.
"Our customers – and their communities – are at the heart of everything we do and we're delighted to be able to connect so many of those communities by rail for the first time in more than 50 years."
David Horne, Managing Director at LNER, said: "We're proud to be introducing our revolutionary Azuma services at Reston as it becomes the newest destination along our iconic 956-mile East Coast route. The arrival of our services will transform travel for residents and generate further economic opportunities for the area, with our world-class services making business and leisure travel simpler, smarter and greener.
"Our Azuma trains offer customers greater comfort and space, keeping people connected with free onboard WiFi and sockets at every seat. Our superb at-seat catering offers in both Standard and First Class further enhance our customer experience."
Sam Smith, Chief Officer for Economic Development at Scottish Borders Council said, "The completion and opening of the new Reston station is a momentous occasion for communities across Berwickshire and I am delighted to welcome a train service to the village again after a gap of almost six decades.
"Easy access to services on the East coast mainline services opens up a world of opportunity for local people but also provides a platform to attract people to Berwickshire and capitalise on its fantastic leisure and tourism potential.
Network Rail is encouraging anyone with any questions about the project to email restonstation@networkrail.co.uk or call our 24-hr helpline on 03457 11 41 41.
Let's Walk: Free walking maps at Network Rail stations in London to get more people walking this summer
10,000 free copies of a new walking map that charts a network of quiet and interesting streets in central London is now available at Network Rail's London stations.
A new edition of a beautifully illustrated walking map has today been released by Footways, plotting hundreds of kilometres of scenic, safe and pedestrian-friendly walking routes in central London. The paper map – also available as a digital copy with geolocation – encourages Londoners to choose walking to get around their city, just in time for summer, London's Platinum Jubilee and the opening of the Elizabeth Line.
The vibrant map also features a 'Quick Connections' tool on the back, making it easy for people to incorporate walking into A-to-B journeys. Whether on their own, with friends or as a family, Londoners and visitors can take 15 minutes to stretch their legs between a railway or Crossrail station and many of London's most iconic attractions such as museums, galleries and green spaces, while getting their step count up.
The Footways network has been designed to connect major places with London's most appealing, accessible and interesting streets. The printed and digital maps also reveal hundreds of interesting features which can only be explored when travelling on foot. This means walkers get a glimpse into London's diverse culture and long history when choosing London's most enjoyable form of transport.
The second edition of Central London Footways is a collaborative initiative made possible thanks to key sponsors Network Rail, London North Eastern Railway, King's Cross Central Limited Partnership, the Northbank BID, Urban Partners for King's Cross, Euston & St Pancras, Central District Alliance BID, City of London Corporation, with support from Transport for London, London boroughs and Living Streets, the UK charity for everyday walking.
Susan Holden, stations customer experience manager, Network Rail, said:
"Network Rail is pleased to have worked with Footways London in the development of this walking map, which highlights safe and accessible walking routes across London for locals and visitors. We know that our customer journeys do not begin and end at stations, so to connect rail – the best long-distance, low-carbon travel – with walking – the easiest, most accessible and enjoyable form of transport on short distances – creates the ultimate integrated, sustainable transport. Ten thousand initial copies of this map will be made freely available across our Managed Stations in London, for the benefit of our customers and people in our communities."
David Harrison, co-founder of Footways and transport historian said:
"We're incredibly proud of the second edition of Central London Footways, launching in time for Living Streets' National Walking Month. London boasts such an interesting history, so what better way to discover this and all its hidden gems than by foot? Londoners are often surprised to discover just how close destinations are to stations; many are within a 15-minute walk.

"This summer we want to see more people walking, particularly families with their kids. That's why our definition of 'walking' covers all uses of the 'footway', including feet, wheelchairs, mobility scooters and kids on bikes. Although we want everyone to use these walking routes to experience the city, walking infrastructure must be improved to make the city truly accessible to all Londoners."
Michael Richardson, Project Director, Urban Partners for London King's Cross, Euston and St Pancras, said: "Urban Partners is delighted to have sponsored Footways' updated walking map of London. We have been working for 10 years to encourage people to take an alternative, lower-carbon walking route through King's Cross, St Pancras and Euston. Partnering with Footways on the latest iteration of their map not only means we can encourage active travel by those visiting, working in and living in our area, but also support this across London
Will Norman, London's Walking and Cycling Commissioner, said:
"Walking is a fantastic way to get around and explore our wonderful capital. We're making London a city where walking is the most obvious, enjoyable and attractive means of travel for all short trips. This map is a great tool for exploring quiet and interesting streets across central London. I hope Londoners and those visiting enjoy using it this summer. I know I will."
Roberta Fusco, Director of Policy, Living Streets, the UK charity for everyday walking, said:
"Walking for just 20 minutes a day can have fantastic health benefits, reducing the risk of long-term health conditions such as type 2 diabetes, depression and certain cancers. The Footways maps will help make walking and wheeling an easier option for people living, working and visiting the capital, improving people's connectivity to the people and places around them."
First train runs on Midlands' newest and longest railway bridge
The Midlands' newest and longest railway bridge is now fully functional after carrying its first freight train.
Tracks reopened today (Monday 23 May) on the Stechford to Aston freight line in Birmingham following the installation of a massive 2,600-tonne bridge* built by Network Rail in partnership with HS2.
At 92 metres long, the steel and concrete structure becomes the longest single-span railway bridge in the Midlands.
It needs that clearance underneath so future tracks for Britain's new zero-carbon railway can be built below for HS2 trains to access its Washwood Heath depot.
The demolition of the old railway viaduct and installation of the new bridge has closed this connection to Birmingham rail freight terminal for 23 days.
But today the first train passed over the new structure, reopening the important rail freight route and marking a huge milestone for project contractor Skanska.
Patrick Cawley, director for 'On Network Works' for Network Rail and HS2, said: "Seeing the first train pass over this iconic structure is a proud moment for the hundreds of people who've worked throughout the pandemic to make this new bridge a reality.

"It's also a key part of the jigsaw to ensure the existing railway network works in harmony with HS2. I'm conscious this work has disrupted some passenger journeys over recent weeks and I'd like to thank CrossCountry customers for their patience while we carried out this major project."
Rosario Barcena, Skanska Rail programme director, said: "Installing a railway bridge over an existing railway line is a complex engineering project that requires a huge amount of skill and dedication from all those involved. To have delivered this on time and despite of Covid-19 restrictions is a fantastic achievement and testament to the team involved."
Building and installing the bridge, known as SAS 13, involved precision planning and engineering and the use of some heavy-duty equipment.
Earlier this month the structure was driven into place by remote-controlled vehicles after being pre-assembled on site in a civil engineering project which has taken over two years.
Building it on site reduced carbon emissions and cut the number of lorry movements on local roads, minimising impacts on the local community.
CrossCountry passengers are being given advanced notice of future work later in the summer on the same Birmingham New Street to Coleshill Parkway route.
Journeys will be impacted by more work to ready the railway for HS2 at weekends in August and early September.
Over four consecutive weekends from 13 August to 4 September, work will take place to:
Upgrade railway signals at Washwood Heath
Install piles in preparation for a new underbridge at Duddeston
Engineering work on a bridge at Heartlands Park
Carry out maintenance activity on this section of railway to make it more reliable.
To carry out the work safely, CrossCountry services between Birmingham New Street and Coleshill Parkway will be replaced with rail replacement buses.
Some long-distance services will also be diverted which means journeys will take longer.
Network Rail is working with CrossCountry to keep people informed.
Passengers should plan their journeys in advance at www.nationalrail.co.uk
London's Schoolchildren turn Paddington to Abbey Wood purple to celebrate the opening of Elizabeth line
Local schools have created purple decorations and artwork at landmarks near the new stations to mark one day to go before opening
The transformational Elizabeth line will open to customers on Tuesday 24 May
With one day to go until the opening of the Elizabeth line, landmarks across the central section are today (May 23) turning purple with a little help from local schoolchildren.
A school close to each of the nine new stations has created purple decorations and artwork – inspired by the colour of the new line – which will be available to view between 10am and 4pm.
The full list of schools and locations – and the Elizabeth line station that they are close to – are as follows:
Departures Road (Paddington) – Marylebone Boys School
Phoenix Gardens (Tottenham Court Road) – Soho Parish Primary School
Charterhouse (Farringdon) – St Mary Magdalene Academy
Whitechapel market (Whitechapel) – Kobi Nazrul Primary School
Spitalfields market (Liverpool Street) – Swanlea School
Konstantin Grcic's Six Public Clocks (Canary Wharf) – New City College
Cable car ticket hall (Custom House) – Royal Docks Academy
General Gordon Square (Woolwich) – Royal Greenwich Trust School
Lesnes Abbey Wood (Abbey Wood) – London South East College (Bexley campus)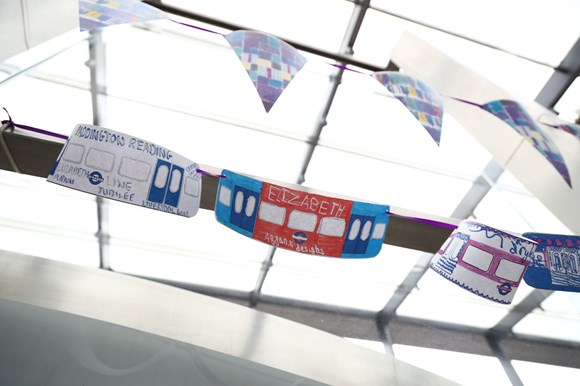 Ann Gavaghan, Customer Experience Manager at Transport for London's People and Places Programme, said: "TfL has a long legacy of collaborating with local communities both within our stations and beyond. With just one day until the Elizabeth line launches, it has been fantastic to drum up excitement within the local community using the railway's eye-catching new colour.
"The new line will transform travel across London and the South East by dramatically improving transport links, cutting journey times, providing additional capacity, and transforming accessibility with spacious new stations and walk-through trains. It will serve Londoners and beyond for many decades to come."
The first Elizabeth line services will depart Paddington and Abbey Wood Elizabeth line stations from 06:30 on 24 May. Trains will run every five minutes between 06:30 – 23:00 Monday to Saturday.
All Elizabeth line stations will be staffed from first to the last train, with a 'turn up and go' service offered to anyone needing assistance. Step-free access is in place from street to train across all Elizabeth line stations between Paddington and Woolwich.
The north's biggest train operator given special recognition for improving gender balance, equality, diversity and inclusion
Northern is delighted to have received special recognition at the Women in Rail awards. 
The north of England train operator, which employs close to 7,000 people, including c.1400 women, was recognised by judges for its work in improving Equality, Diversity and Inclusion in the rail industry.
Northern was picked out of 300 nominations and shortlisted entries in the awards ceremony dedicated to celebrating the contribution of women to the UK rail industry.
The Women in Rail Awards aim to showcase and reward individuals and companies (large and small) who have made a significant contribution to improving gender balance, equality, diversity and inclusion within the UK railway industry.
Northern launched a new Equality, Diversity and Inclusion (EDI) strategy in 2020 with the aim of creating a culture where everyone who works for us or travels with us feels included and valued.
Judges from the Women in Rail Awards were pleased to see that EDI in Northern is not just a HR task but that it involves commitments from everyone within the business.
50 colleagues volunteer from across the business to advise on how equality, diversity and inclusion are at the heart of everything Northern does and the group have spearheaded continuous EDI based learning and development, raised awareness of key issues and helped to introduced workplace policies on Menopause, Domestic Violence Support, Becoming a Parent and Transgender Support.
Northern also has a blind sifting policy, meaning information on CVs that could indicate a person's background or gender is removed to ensure there is no potential unconscious bias. This has led to an increase in new recruits into Northern from ethnic backgrounds.
Emma Yates, Northern's Programme Director commented: "The Women in Rail Awards is a very important occasion that celebrates the contribution and opportunities for women across the UK rail industry.
"We have worked extremely hard to make sure that we are an equal, diverse and inclusive business for both our customers and our colleagues, and it is fantastic news that the judges gave us special recognition for our work in this area.
"We are continually working on our strategy to attract the best and most diverse people into Northern and we will work with all our communities to let everyone know that Northern and the rail industry is a great place to be with opportunities for all."
The Women in Rail event is attended by a cross section of the UK rail sector, including key stakeholders and decision makers, infrastructure providers, operators, manufacturers, rolling stock companies, technical consultancy companies and suppliers, to name only a few.

Northern was also shortlisted for the Women in Rail Social Inclusion award for its work with young and diverse communities in West Yorkshire and in particular Bradford, which has the youngest population in Europe. Northern have worked with the National Citizen Service to educate communities on the benefits and huge variety of opportunities working within the rail industry.
Northern's commitment to Equality, Diversity, Inclusion and Social Mobility was one of the reasons that attracted Tahira Bibi, the UK's first female Pakistani train driver to the industry.
She commented:  "Representation in any industry matters because it shapes how people from minority backgrounds are viewed by wider society and how they view themselves. Representation allows people to feel validated and create a team environment where ideas are diverse, perspectives are varied, and everyone feels different."  
GWR to provide 40 trains for fans heading home from Ed Sheeran concerts
Great Western Railway will provide 40 trains and nearly 20,000 seats for music fans leaving Cardiff following this week's Ed Sheeran concerts.
GWR will operate 15 services from Cardiff Central after 22.45 on both Thursday and Friday night, and a further 10 services on Saturday night.
Trains are however expected to be very busy, with thousands of concert goers walking the short distance from the Principality Stadium to Cardiff Central station following the gigs.
In a repeat of the queueing system in place for this year's Six Nations fixtures, people travelling to Newport after the game will be asked to queue on the square in front of Cardiff Central station, rather than from Riverside Car Park.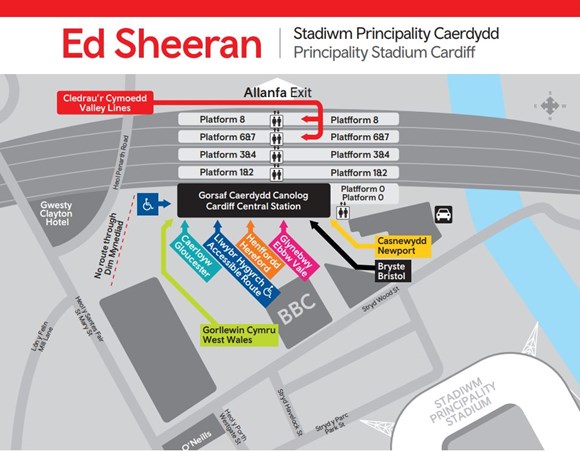 Customers are advised to keep checking social media for the latest information on queuing times.
On Thursday and Friday, GWR will run six services to Swansea from 22.53, two IET services to Newport at 22.56 and 23.25, plus seven services to either Bristol Temple Meads or Bristol Parkway from 23.13.
On Saturday it will operate four services to Swansea from 23.00, two services to Newport at 22.58 and 23.09, and four services to both Bristol Parkway and Bristol Temple Meads from 23.22.
My Chemical Romance are playing at Sophia Gardens Cricket Ground on Saturday night, increasing demand for services from Cardiff Central.
GWR Customer Service & Operations Director, Richard Rowland, said:
"We're doing all we can to help customers home following these concerts and we are pleased to be able to provide these additional services.
"But Cardiff Central is going to be especially busy after the gigs and we would encourage customers to check journey times and allow sufficient time to queue to board trains safely."
Transport for Wales Planning and Performance Director, Colin Lea, said:
"With more than 50,000 people expected at the Principality Stadium each night, services in and around Cardiff will be very busy, so we kindly ask people plan ahead, check the latest timetables and leave plenty of time for journeys.
"We've paused evening improvement works on the Valleys lines to help more customers to get home by train after the event and we are strengthening services where we have trains and crew available.
"Colleagues will be working hard to assist everyone to get home safely and we would advise customers to familiarise themselves with the post-event queuing system and make sure they are prepared for the possibility of extended waiting times."
For more information, or to check your journey, please visit GWR.com.
ScotRail to introduce temporary timetable
From Monday, 23 May, ScotRail will introduce a temporary timetable to provide greater certainty and reliability for customers.
This is a result of the ongoing impact of a significant number of drivers declining to make themselves available for overtime or rest day working, following an announcement by the drivers' union ASLEF that it will ballot for industrial action over pay.
The temporary timetable for Monday – Friday can be viewed online at scotrail.co.uk/timetable-update
ScotRail is currently working on temporary timetables for Saturdays, which will be broadly similar to the Monday to Friday timetable, as well as timetables for Sundays, and will update customers in the coming days.
The train operator said it's right to make these changes to provide greater certainty for customers as the current level of cancellations is not sustainable for customers and colleagues.
Like many train operators across Britain, ScotRail has relied on drivers working overtime or on their rest days. In 2019, ScotRail committed to employing more drivers to phase out the reliance on this practice, however, the pandemic meant that driver training was significantly delayed.
ScotRail is still awaiting formal notification from ASLEF and the RMT on the details of the ballots of its members for industrial action.
ScotRail is disappointed to find itself at this stage with both trade unions, despite a very good offer being made. ScotRail has made a good pay offer that recognises the hard work of our colleagues and the cost-of-living challenges faced by families across the country, while delivering value for the taxpayer.
The details of the 2022/23 offer are as follows:
A 2.2 per cent increase in pay, consistent with the October 2021 agreement reached with other grades.
A top-up revenue sharing arrangement that could potentially deliver up to an extra £195 for all staff per period. The full package would apply where revenue targets are exceeded.
ScotRail remains open to further talks to engage in a meaningful conversation with ASLEF and the RMT.
David Simpson, ScotRail Service Delivery Director, said:
"We are very sorry to customers for the disruption of recent days. We know what customers want more than anything is certainty and reliability, which is why we are introducing a temporary timetable.
"We want to resolve this dispute with the trade unions and move forward together to provide the safest, greenest, and most reliable railway we can for Scotland. We remain open to further talks with the trade unions.
"We're asking customers to check their journey on our website, mobile app, and through our social media channels as train times will have changed."
CrossCountry appoints Regional Directors for North East and Scotland and Wales and West
Britain's largest long-distance operator, CrossCountry, has announced the appointments of two Regional Directors in a bid to further embed its regional structure. They will be responsible for the operational and financial performance for their regions, helping to instigate change to benefit the customer.
Ben Simkin, who has been covering the role for an interim basis, has been appointed Regional Director for North East and Scotland. Ben has a wealth of experience both from a commercial perspective, having held the position of Commercial Director, but also operationally, in his role as Regional Customer Service Manager for the East Midlands and East Anglia.
Huw Margetts will join CrossCountry as Regional Director for Wales and West in the summer.  Huw has almost ten years' railway experience, having joined the sector as a graduate at Network Rail. He has held numerous operational roles including Head of Performance and most recently Head of On-Train Service at South Western Railway while his knowledge of managing operational colleagues and the importance of developing strong stakeholder relationships will be invaluable in his new role at CrossCountry.
On his appointment, Ben Simkin said: "I have been lucky to gain a broad spectrum of experience at CrossCountry, both from a commercial and operational perspective. This has helped to give me a strong understanding of the complexities of our business which will be hugely beneficial in my role as Regional Director."
Huw Margetts commented: "CrossCountry is unique in that it runs services across the length and breadth of Great Britain. I am looking forward to building on the great work that has taken place in the region so that we have long-lasting relationships with the communities we serve and shape the business to benefit existing and future customers."
Tom Joyner, Managing Director at CrossCountry added: "We are seeing lots of interest in our leadership positions at CrossCountry both internally and externally. This is incredibly positive as we evolve our business to tackle the challenges of tomorrow and position ourselves as a customer-focused long-distance business."