Some of these releases are from the past week as I have been unavailable.
Barking Riverside Extension to open this summer, ahead of schedule
PN-056
Customers will be able to reach Barking Riverside by train earlier than planned
Driver training and route testing continue to ensure customers have a reliable service from day one
Project supply chain has supported skills and jobs across the country
Local residents and visitors to Barking Riverside will soon benefit from quicker and easier journeys with the confirmation that Barking Riverside will become the capital's newest railway station this summer, ahead of schedule. Transport for London (TfL) has been able to bring forward the launch of London Overground services to Barking Riverside, originally planned for the autumn, following good progress being made in the completion of the station commissioning and testing stages.
Residents can already see trains running between Barking and Barking Riverside while route testing and driver training takes place by Arriva Rail London, which operates the London Overground on TfL's behalf. This is a major milestone for the project and one of the final steps ahead of welcoming customers for the first time. Barking Riverside station, which appeared on the Tube map for the first time in May, adds to London's growing number of step free stations – helping to make the capital a more accessible city for everyone.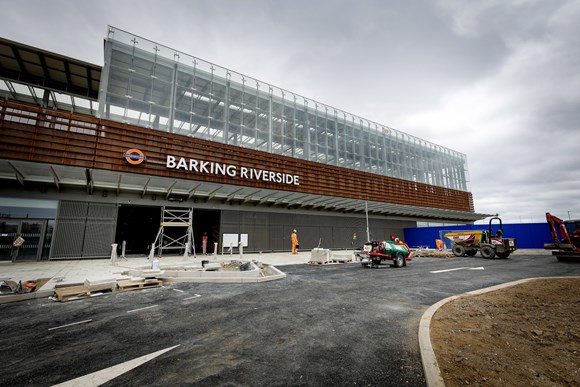 Investment in transport benefits the whole country – from supporting jobs and businesses across the country to ensuring supply chains and manufacturers are able to retain the skill base and resources to easily and affordably satisfy transport projects in other regions. Businesses from around the UK have benefited from the Barking Riverside Extension. Throughout construction, the project's supply chain has supported businesses of all sizes with skills and job creation seen across the whole country. This includes steelwork from Scotland and the East of England, precast concrete from the North West and Northern Ireland and innovative slab track from the East Midlands.
The 4.5km extension, which extends the Gospel Oak to Barking London Overground route to a new step-free station at the heart of Barking Riverside, will drastically cut journey times from Barking to Barking Riverside, which currently takes around 25 minutes by bus. Operating four trains per hour, it will take just seven minutes to travel from Barking Riverside to Barking with easy interchange to both the District and Hammersmith & City lines into central London and c2c services.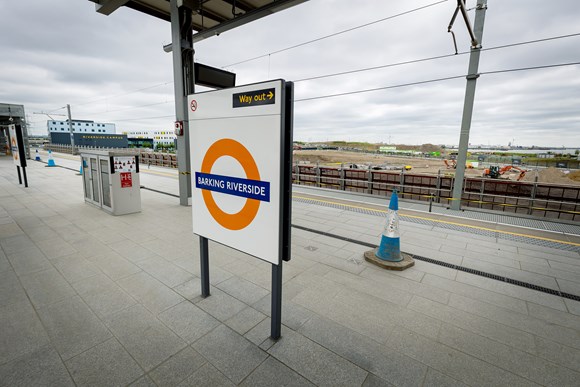 The extension is an intrinsic part of the Barking Riverside development, which is being delivered by Barking Riverside Limited, a joint venture between L&Q and the Mayor of London. This 180-hectare brownfield site on the northern bank of the River Thames is set to be one of London fastest growing areas. The Barking Riverside Extension will help to enable the construction of more than 10,000 new homes along with a range of community, commercial and retail spaces along a 2km stretch of Thames River frontage. Sitting at the heart of a new public square, the new Barking Riverside step-free station will provide a direct interchange with local bus services and will be a five-minute walk from the riverside, which is already served by Uber Boat by Thames Clippers River Bus services.
Stuart Harvey, TfL's Chief Capital Officer, said: "Through fantastic collaboration with our partners working on this project, including the MSVF joint venture of Morgan Sindall Infrastructure and VolkerFitzpatrick, Network Rail and Arriva Rail London, I am pleased to confirm that the Barking Riverside Extension will open this summer. The extension will be a game changer for Barking Riverside – vastly improving transport connectivity, accessibility and helping to realise plans to deliver much needed housing."
Matthew Carpen, Managing Director of Barking Riverside Limited, said: "Today's news will be a cause of celebration for all residents, complementing the recent extension of the River Bus service and helping connect Barking Riverside to the rest of the capital."
Paul Hutchings, Managing Director of Arriva Rail London, said: "We are delighted to be extending the London Overground network to Barking Riverside this summer and are working hard to get the station ready for customers. The commencement of our driver training programme on this brand-new stretch of railway takes us another step closer to operating a safe, reliable and punctual service for the local community."
Steve Balliston, Project Director for MSVF (Morgan Sindall Infrastructure VolkerFitzpatrick) joint venture, said: "It has been a privilege to work on the Barking Riverside Extension, and we're delighted that we have achieved this major milestone ahead of the targeted date, through our efficient, safety-conscious and collaborative efforts. The team, along with TfL and our supply chain, has worked extremely hard to meet every challenge and deliver a project that provides better connectivity and employment benefits for the local and wider community."
Vicky Savage, Group Director of Development and Sales at L&Q said: "We're proud that our vision for Barking Riverside is being realised with the impressive new facilities being delivered. The new Overground Station will have a huge impact on the existing and future community, cementing the status of this development as one of London's most exciting emerging neighbourhoods."
More eTicket readers help rail passengers breeze through Southern stations
Rail passengers with smartphone eTickets will find it easier to travel with Southern now that more barcode readers have been installed at stations.
Additional barcode readers – that allow passengers to scan eTickets on their smartphones – have just been added to ticket gates to achieve 100% coverage and cut queues of waiting passengers at the following stations:
Angmering, Ashtead, Barnham, Bexhill, Bognor Regis, Dorking, East Grinstead, Haywards Heath, Lancing, Leatherhead, Littlehampton, Polegate and Reigate.
It's estimated that 50% of tickets now sold in the UK are digital. eTickets are convenient and popular because they can be bought instantly on the train firm's OnTrack app or website.
They are ideal for advanced singles, peak and off-peak singles, and peak and off-peak day return tickets.
Customer Services Director Chris Fowler said: "Barcode eTickets are quick to buy and convenient to use so we're steadily adding them to more and more ticket gates across our stations to make life easier for our customers."
Jacqueline Starr, Chief Executive Officer at the Rail Delivery Group, said: "We're making it easier for people to buy train tickets with people rapidly switching to buying online and now using digital tickets for half of all journeys. Investment in smart ticketing across the network has made train travel quicker and easier as people can get their ticket straight to their phone."
HS2 starts work on first pioneering 'Green Tunnel'
HS2 today [Friday 10th June] announced the start of construction at the site of its first innovative 'green tunnel', designed to blend the high speed railway into the landscape and reduce disruption for communities.
Unlike a normal underground tunnel, the one-and-a-half mile (2.5km) Chipping Warden green tunnel in Northamptonshire is being built on the surface using a pioneering off-site manufacturing approach to speed up construction and improve efficiency.
This approach will see more than five thousand giant concrete tunnel segments made in a factory in Derbyshire before being assembled on site. The completed tunnel will then be covered by earth, with trees, shrubs and hedgerows planted to fit in with the surrounding countryside.
Chipping Warden is one of five 'green tunnels' that are being built on phase one of the HS2 project, which is designed to improve links between London, Birmingham and the north, help level-up the economy and provide a low carbon alternative to car and air travel.
Applying lessons from the construction of the latest French high speed lines, the off-site approach was developed by HS2's main works contractor, EKFB – a team made up of Eiffage, Kier, Ferrovial Construction and BAM Nuttall. The tunnel segments are being made by Stanton Precast in Ilkeston Derbyshire as part of a contract which is set to create up to 100 local jobs.
HS2 Ltd's Project Client Rohan Perin, said:
"The Chipping Warden green tunnel is a great example of what we're doing to reduce disruption for people living close to the railway – and it's fantastic to see the first arches in position.
"Our trains will be powered by zero carbon electricity but it's also important to reduce the amount of carbon embedded in construction. The off-site manufacturing techniques being used will help cutting the overall amount of carbon-intensive concrete and steel in the tunnel and make the whole process faster, more efficient and therefore less disruptive for the community."
Designed as an m-shaped double arch, the tunnel will have separate halves for southbound and northbound trains – each one the height of two double-decker buses. Instead of casting the whole tunnel on site, five different concrete precast segments will be slotted together to achieve the double arch – one central pier, two side walls and two roof slabs. All 5,020 segments will be steel reinforced, with the largest weighing up to 43 tonnes.
Concrete and steel are some of the biggest sources of carbon emissions within the construction industry and by reducing the amount of both materials needed for the tunnel, this lighter-weight modular approach is expected to more than halve the amount of carbon embedded in the structure. It also requires less people and equipment on site, improving safety and reducing disruption for residents.
EKFB's Project Manager, Jeremie Martin, said:

"Seeing the first set of precast units being installed is a milestone that the whole team is very proud of. This three-year construction programme will benefit from off-site manufacturing making the green tunnel build more efficient than the traditional on-site building method.
"The HS2 green tunnels are a first of its kind in the UK. We have designed them as a twin arch 'M' shape which is more efficient than the standard box structure, reducing the amount of concrete required, which is a great example of how innovative engineering design can reduce carbon impact."
The tunnel will be built in sections, with construction expected to be complete in 2024. A relief road has also recently been completed, which will take HS2 vehicles – and other local traffic – away from the centre of the village of Chipping Warden. This will later be extended, to take the A361 over the top of the green tunnel.
Similar green tunnels will also be built at nearby Greatworth as well as Wendover in Buckinghamshire and Burton Green in Warwickshire, stretching for a combined total of more than four miles. The tunnels will all have specially designed 'porous portals' at either end to reduce the noise of trains entering and exiting the tunnel, along with small portal buildings to house safety and electrical equipment.
Tailored landscaping design plans will be developed for each tunnel, with thousands of native trees and shrubs typical to the local area such as Silver Birch, Oak, Beech and Willow planted to create new woodland areas around the portals and recreate the hedgerows and field boundaries on top of the tunnel.
All 13,290 segments for Chipping Warden, Greatworth and Wendover are being made by Derbyshire-based Stanton Precast Ltd, in a deal that is set to create up to 100 jobs at their Ilkeston factory – an increase in their workforce of around 50%. New production sheds, casting and storage areas are also being built at the factory to accommodate the new work.
HS2 trials 'first of a kind' electric drilling rig in bid to cut carbon in construction
HS2 Ltd's construction partner Balfour Beatty VINCI Joint Venture (BBV), is currently trialling the world's first all-electric, high-capacity drilling rig on a construction site in Warwickshire, as the Joint Venture steps up its plans to meet HS2 Ltd's ambition for diesel-free construction sites.
Andrea Davidson, HS2's Air Quality Manager said:
"We are proud to be working with our supply chain and leading manufacturers to drive a step change in the UK construction industry, demonstrating the viability and benefits of emissions-free heavy electric plant.

"Being at the forefront of a ground-breaking trial like this is another step on our journey to achieving our target of all diesel-free construction sites by 2029, and net zero carbon from 2035 – helping HS2 to become the most sustainable infrastructure project ever delivered."
The 100 tonne BAUER eBG33 drilling rig creates an overall reduction of 1292kg CO2 per day compared to a traditionally powered rig and also reduces noise by 50%. In terms of performance, the rig is able to carry out exactly the same tasks as a traditional rig.
This innovative new machine is being used by BBV's deep foundations contractor SB3 (a Joint Venture between Bachy Soletanche & Balfour Beatty Ground Engineering), and works alongside a diesel-powered rig to construct large diameter piles, with the aim of demonstrating that heavy, electric-powered construction plant can perform the same tasks as traditional machines.
Dan Fawcett, Innovation Director at BBV said:
"We're committed to driving real innovation across everything we do. That's why we're so excited to trial the world's first all-electric, high capacity drilling rig at one of our HS2 sites in Warwickshire. This pioneering project marks a major step forward towards transitioning to all-electric powered plants, which is great news for the environment too.

"We'll look to share what we learn from this trial and extend it across our other sites, as well as the wider industry."
Tim Laemmle from BAUER Maschinen GmbH, the rig's developers and manufacturers, said:
"We're thrilled to be leading the industry with this electric rig. It is great to be working with HS2, BBV and SB3, as the first UK specialist contractor to demonstrate the capabilities of the product. We're fully committed to bringing emission-free equipment to the deep foundation sector. There is a strong desire to promote our new electrified equipment as a genuine, reliable alternative to fossil fuel driven machinery."
Chris Merridew, SB3 JV Board Director said:
"Our team was eager to support Bauer as the first end user of the electric rig and its new technology. It has the potential to be a massive game changer for the industry and the wider construction sector in our continued drive to reduce carbon, noise and emissions."
The BAUER eBG33 replaces the diesel engine drive with a powerful electric drive. The environmental benefits include reduced exhaust and noise emissions; high energy efficiency due to modern three-phase asynchronous motor; and flexibility through an integrated frequency converter. BAUER are also trialling different E-connection concepts and an innovative concept for set-up operation via an autonomous secondary drive which is independent of the power supply.
Network Rail issues reminder of critical repairs to railway bridge in Bath starting next week
Network Rail is reminding residents and motorists of critical repair work to Claverton Street railway bridge that is due to begin next week to ensure the continued safe and reliable running of the railway through the city of Bath.
Work on Claverton Street railway bridge – which sits above the A36 at Churchill Bridge roundabout to the south of Bath city centre – will begin on Monday 20 June, lasting until Sunday 16 October. To minimise disruption to road users and rail passengers, the refurbishment will take place at night.
Between the hours of 6am and 7pm daily, the road will be open as usual and train services will remain unaffected throughout.
The bridge, located just outside Bath Spa station, carries train services in and out of the city and needs extensive steel and brickwork repairs so that passengers can continue to experience safe and reliable journeys.
Around 17,500 tourists, commuters and visitors travel by train to Bath Spa station every day and once this work is complete, the lifespan of this vital bridge will be extended by at least 25 years.
As part of this £800,000 project, Network Rail's team of engineers will be working throughout the night to grit blast the structure (a process which involves forcibly propelling abrasive material against a surface at high pressure), requiring access both beneath and on top of the bridge as well as alongside the railway tracks. Once the entire bridge has been grit blasted, the metalwork will be restored before a protective layer of paint is applied. The brickwork on the sides and support structures of the bridge will also be repaired.
To ensure that these repairs can be carried out while maintaining the safety of rail and road users as well as pedestrians, the A36 at Churchill Bridge roundabout will need to be closed to all eastbound and southbound traffic from 7pm to 6am between 20 June and 16 October, seven days a week. Between 20 August and 9 October, Network Rail's engineers will only be working beside the railway tracks each Saturday evening, meaning the road closure on Saturdays will differ, lasting between midnight and 7am.
During this period of work, a diversion route, approved by Bath and North East Somerset Council, will be in place as follows:
All northbound traffic including access to the A4 London Road, A46 and M4 motorway will travel via Green Park Road and Charles Street to Queen Square, and then via Gay Street and George Street onto the A4 The Paragon.
All eastbound traffic including access to Bathwick, Bathampton and Warminster, will travel via the A3039 Dorchester Street and Manvers Street to North Parade before turning left onto the A36 Pulteney Road (South).
All southbound traffic including access to the A367 Wellsway to Radstock and Midsomer Norton will travel via the A3039 Dorchester Street and Manvers Street to North Parade before turning right onto the A36 Pulteney Road (South).
All Westbound traffic towards Keynsham and Bristol leaving the city centre will either follow the southbound diversion before travelling onwards via the A36 Lower Bristol Road, or travel out of Bath via the A4 Upper Bristol Road.
Network Rail has worked closely with the Council and other businesses and stakeholders in the city to identify any largescale events that would be significantly impacted by this work and has adapted its programme and agreed to stand down work on a number of dates to accommodate these events; including the Michael Bublé concert (15-16 July), Bath Boules (22-24 July), and the Fantastic Food Festival (29-31 July).
Michael Contopoulos, Network Rail's Project Director, said: "The Claverton Street railway bridge is a significant piece of rail infrastructure that carries around 17,500 rail passengers in, out and through the city of Bath each day. Now it needs important repairs to extend its lifespan and structural integrity.
"To carry out this work safely, we will need to close the road underneath the bridge; I'd like to take this opportunity to apologise for any disruption this will cause to road users.
"We are aware of the impact a traffic diversion will have in such a busy city centre location and have limited our working to overnight shifts to minimise disruption to road users as far as possible. Some of our work may be noisy at times; I apologise if any nearby residents are affected.
"We will be doing all we can to complete these repairs as quickly, quietly and safely as possible, and we would like to thank residents, businesses and road users in advance for their patience and understanding."
To find out more about Network Rail's work to maintain and repair Claverton Street bridge, please visit www.networkrail.co.uk/claverton
Local residents and businesses with any queries or concerns regarding the work taking place are encouraged to contact Network Rail's 24-hour national helpline (03457 11 41 41) or visit www.networkrail.co.uk/contactus
Reading station's green credentials given boost thanks to 'digital twin'
An innovative project to improve carbon emissions and energy performance at Reading station is underway which has the potential to improve the station's energy performance by around 20%.
Sensors are set to be installed across Reading station to capture live, real-time data on the station's energy usage in a bid to help cut the station's carbon emissions and improve its energy performance.
This innovative approach to understanding and improving the station's energy performance is thanks to a specialist computer modelling platform that has developed a 'digital twin' of the station including a simulation of its current energy usage. Using existing, historical data and modelling, a number of opportunities have been identified that are predicted could result in around a 20% improvement on the station's carbon emissions and energy performance.
Network Rail has team up with Atkins – a member of the SNC-Lavalin Group – and Cardiff University to develop this 'digital twin' of Reading station, utilising Cardiff University's Computational Urban Sustainability Platform (CUSP).
Using this data and computer modelling to create baselines for the station's energy consumption and carbon emissions, CUSP has been used to map out ways of improving the station's performance via energy efficiency measures whilst exploring further possible changes and the potential impact this could have on making additional energy savings.
A number of ways to reduce energy expenditure and carbon emissions with minimal costs have been identified, including:
Improved lighting controls such as dimming when an area of the station is not in use.
Turning off machinery such as escalators when not in use or overnight when train services aren't in operation.
In addition to the data being collected by the sensors at the station, passenger numbers and research to understand passenger and station-user behaviour will also be recorded to understand how identified energy savings might impact their safety and experiences when in the station.
It is hoped, following the energy and carbon savings being realised at Reading station, this technology can be utilised across the rail network to support Network Rail in its commitment to reducing its carbon footprint.
Adam De Benedictis, Network Rail's Regional Energy & Carbon Manager, said: "We're delighted to be working with Atkins on this innovative project which will help us gain a better understanding of complex assets – such as Reading station – and their predicted performance, allowing us to confidently identify and deliver energy efficiency measures and ultimately manage our assets effectively.
"As an organisation, we are committed to reducing our carbon emissions and playing our part in helping combat global warming while ensuring passengers' experiences in our stations and on our railways are safe, reliable and comfortable."
Nick Tune, Technical & Technology Director at Atkins, said: "This is an important milestone as we look to harness data and technology to improve delivery at every stage of an asset's life.
"Digital twins are the centrepiece of this shift which is giving us the information needed to not only identify opportunities to improve an asset's energy performance but to interrogate future scenarios, explore further recommendations and tell us how those interventions will work with an unprecedented degree of certainty."
Levelling Up boost to transform Bristol Temple Quarter and Bristol Temple Meads station
Thousands of new homes and jobs will be created through the regeneration of Bristol Temple Quarter, thanks to £95m in government funding, Levelling Up Minister Neil O'Brien MP announced today (Friday 10 June 2022).
Bristol's biggest ever regeneration project will deliver up to 10,000 homes and 22,000 jobs in a series of new sustainable and inclusive communities at the heart of one of the UK's most productive and fast-growing city regions. The funding will unlock the first phase of this scheme, with future plans to develop 57 hectares of land across St Philip's Marsh in phase two.
The scheme will help to address regional inequalities by focusing on a highly deprived area of Bristol, delivering new affordable homes, generating skills, training, and employment opportunities while improving transport, boosting regional productivity and economic growth.
The partnership between the West of England Combined Authority, Bristol City Council, Network Rail and Homes England will bring forward the regeneration of approximately 130 hectares – equivalent to about 182 football pitches – of brownfield land.
The £95m funding will be focused on areas immediately around Bristol Temple Meads station, unlocking approximately 2,500 new homes by 2032 and supporting around 2,200 jobs.
The funding will also support the creation of three new or significantly improved station entrances planned to the north, south and east of Bristol Temple Meads station. The new entrances will mean that the station no longer severs the connections between neighbouring areas but connects them instead. The new eastern entrance to Bristol Temple Meads will make it much easier to reach the station from surrounding neighbourhoods and creates a link to the new University of Bristol Temple Quarter Enterprise campus.
There will also be a multi-storey car park and a new transport hub which will link up the railway with connections for pedestrians, cyclists and the local and citywide bus network, making it easier to travel around the city and to/from the region.
This latest funding announcement builds on the completion of last summer's £132m track and signalling upgrade at Bristol East Junction and the ongoing renovation of the station's historic train shed roof.
Mike Gallop, Network Rail's Western route and strategic operations director, said: "We welcome this funding announcement and look forward to continuing working with our partners to revitalise Bristol Temple Quarter, including transforming Bristol Temple Meads station into a world class transport hub with three new entrances, a multi-storey car park and new commercial and retail for the benefit of our passengers, the city of Bristol and wider West of England region.
"Our work to modernise the railway near Bristol Temple Meads and the renovation of the station itself is continuing to progress really well. Last summer we completed a £132m major track upgrade at Bristol East Junction resulting in a clever new track layout and state of the art signalling equipment, providing passengers with more reliable and better journeys to and from Bristol Temple Meads, while the next phase of our work to refurbish the station's historic train shed roof is ongoing."
Levelling Up Minister, Neil O'Brien MP, said: "Building new homes in the places they are most needed and regenerating our towns and cities lies at the heart of the Government's levelling up mission.
"It's fantastic to be in Bristol today to see this levelling up in action; central government working with local leaders and industry to grow the economy, delivering the high-quality new homes this country needs and breathing new life into neglected places."
Peter Denton, Chief Executive of Homes England, said: "The Temple Quarter programme provides a step change in how regeneration can be delivered, with the public partnership steering the regeneration, inviting further investment and partnerships with world class regeneration partners.
"We are committed to working with ambitious local authorities seeking to meet their local housing needs through delivery of key infrastructure. The multimillion-pound government funding will resolve much needed improvements to the infrastructure surrounding the station, unlocking critical housing sites and allowing the partnership between the Combined Authority, Bristol City Council, Network Rail and Homes England to deliver their vision for the local community and develop a sense of place."
The West of England Metro Mayor, Dan Norris, said: "I'm thrilled that the Combined Authority, that I lead, has been awarded £95m to invest in Temple Quarter one of the most exciting regeneration projects in Europe. Now we need to make sure that the buildings and infrastructure and the high skilled jobs we bring in, truly match our ambitions on tackling the climate emergency and use the skills of our amazingly talented workers to make this area something to be very proud of.
"Combine this with the refurbishment of Brunel's iconic station and we really will have, at long last, the jewel in the crown in the heart of our great city and fantastic region."
The Mayor of Bristol, Marvin Rees, said: "Temple Quarter creates the opportunity to make our city more sustainable and better connected, while providing the affordable homes, accessible jobs and training that our citizens want and need as we tackle the climate and ecological challenges.
"This announcement is extremely welcome and is the result of a productive partnership between Bristol City Council, the West of England Combined Authority, Network Rail and Homes England that first met in 2017 to plan for the successful regeneration at the heart of the city region.
"The partnership has brought forward a realistic, integrated vision to create a thriving new area of the city that will be key to Bristol's and the city region's journey to becoming an inclusive and sustainable economy, boosting Bristol's role as a major driver of the city region and Western Gateway economies. This funding will unlock the infrastructure and public spaces needed to support further delivery on homes, jobs and inclusive growth and will underpin Bristol's connectivity, sustainability and path to carbon neutrality." 
Railway vegetation clearance planned between Evanton and Invergordon
Network Rail will shortly begin overnight tree and vegetation management on the line between Evanton and Invergordon in the Scottish Highlands.
Between June and September work will be carried out along an 8 mile stretch of the Far North line to clear trees and vegetation from adjacent land within the railway boundary. The work is needed to keep passengers safe and trains punctual and to reduce the risk for lineside neighbours.
From the 13th June for around 16 weeks and working both day and night, the team will clear a 3-metre strip from the outside rail to the boundary. It will also treat any noxious and invasive non-native weeds within the railway corridor.
Other trees within falling distance of the railway will be selectively felled or cut-back to leave a well-balanced tree canopy. Any heritage, landscape specimen trees will be considered on a case-by-case basis and will be retained where it is safe to do so.
Ahead of the work, environmental surveys have been carried out and the area has been inspected for nesting birds and protected species. We have also worked with our ecologists to minimise the impact of the work on the environment.
Those living closest to the line have been advised about the work by letter with a FAQs section which anticipates and responds to many of the concerns people have raised when we have carried carry out this type of work in other areas.
Kirsty Armstrong, Scheme Project Manager for the vegetation clearance work said,
"Network Rail manages thousands of miles of trees and vegetation along the railway to ensure that everything which grows lineside is safe and does not cause delays to trains.
"Through the management of lineside trees and vegetation, Network Rail aims to protect the safety of the operational railway line. This keeps passengers safe and reduces risks for lineside neighbours.
"Elements of this work are unavoidably at night for safety reasons, however the teams are always mindful of the impact their work may have and do what they can to minimise this. We want to apologise in advance if anyone is disturbed by the work."
If anyone has any questions or concerns about this work they can contact Network Rail's 24hr National helpline on 03457 11 41 41.