Around the news rooms from the past couple of days.
Apologies that this is a large amount but I have had a busy couple of days and thought this was easier than bombarding you. SD
Caledonian Sleeper names engine in honour of Railway Heritage Trust
Caledonian Sleeper has today named one of the engines which powers its iconic cross border service in honour of the Railway Heritage Trust. Intended as a token of thanks for supporting the company's major restoration project at Perth Station.
A listed building that dates back to 1848, Perth Station was designed on a grand scale in keeping with the Tudor Gothic style of the time. However, in 2018 the vast size of the station meant that many rooms were lying empty.
Caledonian Sleeper restored the interior décor of an unused waiting area to create a luxury guest lounge for its passengers as well as a staff training centre, breathing fresh life into the area and bringing it back into service. The Railway Heritage Trust provided a generous grant to help fund the refurbishment.
In recognition of this support, Caledonian Sleeper has teamed up with GB Railfreight, which operates the fleet of Class 92 engines that help power the company's iconic overnight rail service, to name one of the engines in honour of the Trust. A plaque was unveiled on the engine at London Euston today to mark the occasion.
Kathryn Darbandi, Serco's Managing Director for Caledonian Sleeper, said: "We're honoured to be naming one of the Class 92's after the Railway Heritage Trust and proud to have worked with the Trust on our restoration project at Perth Station.
"It's incredibly important that we protect the heritage features of the UK's iconic railway network, while also ensuring the network is fit for use in the 21st Century, so it can be enjoyed for many years to come."
Andy Savage, Deputy Chairman of the Railway Heritage Trust, added: 'We are deeply grateful to Caledonian Sleeper and to GB Railfreight for allowing one of their Class 92 engines to carry the Railway Heritage Trust name.
"The Railway Heritage Trust operates across the whole of the Network Rail system, and it is appropriate that a locomotive that operates on the longest-distance services on the network carries our name to such a wide range of locations."
John Smith, CEO of GB Railfreight, said: "We share the Railway Heritage Trust's ambition to protect the UK's historic railway network while modernising the vital infrastructure we all rely on.
"Given the cultural significance of Perth Station, we're grateful for the support they've provided to Caledonian Sleeper and are proud to have one of our Class 92 locos carry the Trust's nameplates."
Transport for the North 'ready and waiting' to aid Government on rail reform plans outlined in Queen's Speech
Martin Tugwell, Chief Executive of Transport for the North, has welcomed today's Queen's Speech, which included references to improving transport and delivering on the levelling up agenda.
He said: "It is reassuring to hear clear mentions of the need for rail reform in today's Queen's Speech, something that we and our region's political and business leaders have been calling for and contributing to. Combined with a focus on innovation and decarbonisation, and underpinned by the ongoing commitment to levelling up, this is a welcome commitment to enhancing connectivity.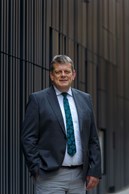 "We now need greater detail on the role of Sub-national Transport Bodies within the new Transport Bill, setting out how we can offer our regional insights and expertise to help deliver a new rail regulatory framework that puts passengers first. Transport for the North is ready and waiting to be at the forefront of the Government's plans to make levelling up a reality and create a sustainable transport network across the North of England."
EMR launches real-time SMS alert service
SMS service allows customers to receive customised travel information
Designed for customers who don't use social media, have a low data allowance or cannot access a strong signal
SMS alert service part of EMR Messenger – which also offers more detailed updates via Facebook and WhatsApp
East Midlands Railway (EMR) customers with low data allowance, no social media accounts or without access to a strong mobile signal, can now receive customised travel information after the company launched a new SMS text service.
The SMS service, which is designed to be inclusive, provides customers with personalised journey updates, including platform information, as well as delayed and cancellation notifications.
Customers can opt-in to the service by visiting the live journey information page on EMR's website and clicking 'Keep Me Updated', they will then be required to type in their mobile number.
The SMS alert function is part of EMR Messenger which was launched earlier this year. EMR Messenger also offers customers the option to receive detailed information via Facebook Messenger and WhatsApp channels.
The SMS alert was introduced by EMR to make sure it is offering a inclusive service to customers. Allowing customers who live in areas with a poor signal, who don't want to use social media, or have a low data allowance, access to up-to-date information to their mobiles.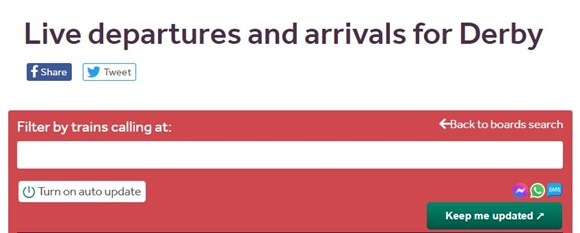 Many SMS messages do not count towards mobile data allowances and many basic mobiles without a data plan can send and receive SMS messages. If in doubt, customers are advised to check with their mobile phone contract provider.
EMR Messenger is powered by revolutionary AI and data prediction technology developed by Midlands-based company Zipabout who has pioneered the use of personalised information services for rail passengers across the UK.
The service will provide EMR with unprecedented insight into the way people use its network, enabling the planning of smarter journeys.
Neil Grabham, Director of Customer Services at East Midlands Railway, said: "We understand that some customers do not use, or want to use, social media channels to be kept up to date with service disruptions. Likewise, some customers can only afford to use a phone with a low data allowance.
"This is about delivering consistent information across a range of platforms, in ways customers tell us they want to receive their updates. Some customers clearly prefer not to use their phone data allowance for travel information. In that instance, SMS messaging presents an alternative and convenient way to be kept up to date with key personal journey information.
"The SMS service will provide the core functions needed by customers to receive the latest information when they take a journey with us and we hope they will find it useful."
Alex Froom, CEO at Zipabout, said: "SMS is reliable, user-friendly and a seamless way of communicating even in areas with poor signal. Offering SMS as another choice in how passengers receive personalised journey information shows the importance EMR places on the individual needs of their passengers.
"Despite the popularity of WhatsApp and Messenger, there are many passengers who choose not to use messaging apps for reasons including simplicity, privacy and accessibility and the launch of SMS updates ensures that they can still be kept in the loop about their journeys."
Rail industry welcomes Queen's Speech
The Railway Industry Association, the voice of the UK rail supply community, has welcomed the Transport Bill announced in the Queen's Speech, which includes plans to "improve" the railway industry.
His Royal Highness Prince Charles said: "Her Majesty's Government will improve transport across the United Kingdom, delivering safer, cleaner services and enabling more innovation. Legislation will be introduced to modernise rail services and improve reliability for passengers."
Darren Caplan, Chief Executive of the Railway Industry Association (RIA), said: "The railway industry will welcome the inclusion of a new Transport Bill in the Queen's Speech today. However, it would have been good to see Great British Railways specifically mentioned in the Speech, to ensure we can make progress.

"With the introduction of rail legislation, RIA has set out 'five tests' for GBR as it is established. These include the need to ensure there is no hiatus in rail work as the restructure takes place, that the new organisation is transparent, open and accessible, and that it supports a sustainable rail supply sector which encourages private investment. The ultimate challenge is to ensure GBR leaves a positive legacy, when it comes to safety, decarbonisation, exports and the economy.

"RIA and our members now look forward to working with the Government, Parliamentarians, rail clients and stakeholders, as the Bill moves forward, ensuring UK rail delivers not just for passengers and freight users, but also the wider economy too."
New rail timetable from THIS SUNDAY
Train operator, Northern's new timetable comes into effect this Sunday (15 May).
The new schedules are designed to deliver better reliability and punctuality for customers.
On the majority of routes, Northern will maintain service levels established in December 2021 and some routes will see increased seat capacity and service uplifts.
Tricia Williams, chief operating officer at Northern said: "Customers are at the heart of everything we do, and the new timetables are designed to deliver high levels of reliability.
"We've made decisions about our timetables based on the levels of resource we have available and prioritising the routes with the highest customer demand, and which support the region's economic growth."
As part of the new schedule, these are the changes that will be introduced:
North West
Improved calling patterns at Adlington and Blackrod
Additional services to Blackpool and Cumbria from July
Additional services on the Hope Valley line
Slightly reduced number of services on the Manchester Piccadilly-New Mills Central route
Increased seat capacity on the Settle and Carlisle line
North East
A small number of services removed on the Whitby – Middlesbrough line
Additional services added between Darlington and Saltburn
Yorkshire
Significant uplift on Yorkshire Wolds Coast line, between Bridlington and Hull
Increased seat capacity on the Settle and Carlisle line
A small number of services have been removed on the following routes:

Ilkley – Leeds / Bradford
Skipton – Leeds / Bradford
York – Harrogate – Leeds
Hull – Leeds – Halifax
Leeds – Sheffield – Nottingham
Leeds – Sheffield via Dearne

Tricia added: "We fully understand the role we play in keeping people on the move and I am asking our customers to familiarise themselves with the new timetables ahead of the changes this Sunday, and to check carefully before any journeys to ensure their journeys go as smoothly as possible."
Northern is the UK's second largest train operator, with nearly 2,000 services a day to more than 500 stations across the North of England.
Don't get caught out: Train times to change this Sunday
Train operator GWR is today reminding passengers that its timetables are changing from this Sunday.
On Sunday 15 and Monday 16 May, the GWR summer timetable will begin, with services specifically designed to support changes in travel behaviour over the summer months. The vast majority of changes are minor timing alterations, and the train operator is urging passengers to check before travelling to avoid getting caught out.
Find out more about how your journey could be affected.
The new timetable will see the doubling of services on the popular Dartmoor Line, following its successful reopening last November. The line reopened last November, restoring a regular, year-round GWR service for the first time in almost 50 years as the first of the Government's Restoring Your Railway scheme, made possible to thanks to over £40 million of Government investment.
Responding to changes in seasonal demand, GWR is to operate direct services between London Paddington and Newquay, providing a direct rail link to this ever-popular seaside town from May until September. More carriages have been added to Weymouth trains for the summer, with four-car formations wherever possible on Saturdays, which is the maximum that currently operate with the current station infrastructure.
To cater for this weekend's St Ives Food Festival, GWR is set to support the train service by running an extra bus shuttle service from 1000 on Saturday and Sunday and has even managed to be able to double parking capacity at St Erth.
As well as the improvements between Exeter and Okehampton, the Exmouth to Paignton service has had provision made for the new station at Marsh Barton, with calls factored passively into this timetable. Axminster in Devon will also join the GWR network. While it is only one service a day to begin with, if demands warrants this could be the start of more frequent stops.
The new timetable has been designed to support the south west's economy and leading destinations; and to reduce costs where appropriate which is particularly important when considering the taxpayer support the rail industry continues to receive to run services.
This means that GWR will not be able to retain all the current direct services to London that start at Bedwyn. Customers can still change at Newbury for onward travel. Direct services remain in place during peak hours.
To avoid duplication of Southern Railway services, the two GWR weekday trains that operate beyond Portsmouth to Brighton are also being removed. The services will still run to Warminster or Westbury. Very few people make the full journey from the Gloucester area where the services start, and making this change means GWR can strengthen the busy, hourly Cardiff to Portsmouth service to five carriages. Customers will be able to use these trains to make connections through to Brighton, which is already well served by other operators.
Limited access to Dawlish beach and promenade proposed this summer as Network Rail starts final phase of construction on new sea wall
The Town Gateway/Colonnade underpass in Dawlish is due to temporarily close next month as Network Rail begins a key stage of its construction on the second section of the new, bigger sea wall that is being built to protect the coastal railway and town from storms and rising sea levels.
From Monday 13 June for up to 12 weeks, the Town Gateway/Colonnade underpass is proposed to be closed for safety reasons while engineers install the foundations for a new bridge that will connect the two sections of new accessible public promenade and for the box culvert through which Dawlish Water will flow into the sea.
Engineers will be operating large and heavy machinery to install 20-metre-long foundations, required due to the poor ground conditions in this area. Safety is Network Rail's number one priority, and the size and location of this machinery means the underpass therefore needs to be closed during construction.
During this time, the beach and Kings Walk promenade (opposite Marine Parade) will remain open and access will be via the stepped footbridge at Kennaway Tunnel. Upon crossing the footbridge, the beach can be accessed from Boat Cove slipway and Coryton Cove via its usual ramped or stepped access.
Every effort will be made to complete this work sooner where it is safe and possible to do so. If there are times during the construction when the underpass can be safely reopened, it will be, and this will be publicised on a weekly basis using local signage and via the South West Rail Resilience Programme (SWRRP) Facebook and Twitter pages.
This is the final critical aspect of this work to protect the railway and historic station. Delaying it until after the summer months is not possible due to the extreme weather that the Dawlish coastline can experience. Postponing this work would also prevent the second section of sea wall reopening to the public in September as planned.
Once complete it will link up with the first section of sea wall and mean residents and visitors alike will be able to walk along a wider and safer promenade from Boat Cove, south of Dawlish station, nearly a kilometre to Coastguard breakwater to the north before continuing uninterrupted to Dawlish Warren along the original sea wall. They will also enjoy step free access to the beaches and station.
Accessibility remains a core focus of this project and a number of improvements have already been made at Dawlish station for passengers with reduced mobility. The platforms have been refurbished making it safer and easier for passengers to step onto and off trains, and the installation of tactile paving on the edge of the platforms will improve accessibility for people with a visual impairment.
The design for the new fully accessible station footbridge with lifts has also now received prior approval from Teignbridge District Council with work to start later this year and the footbridge expected to open in 2023.
Julie Gregory, Network Rail Senior Sponsor, said: "I would like to apologise for any disruption the closure of the Town Gateway/Colonnade underpass may cause and sincerely thank residents, businesses and visitors for their patience and understanding while we complete this critical, final stage of construction.
"I appreciate this closure will be disappointing for the community, especially for people with accessibility needs or those with pushchairs and particularly during the busier summer months.
"However, we will never compromise on the safety of the public or our colleagues, and to ensure we remain on course to complete the second section of sea wall and open the entire promenade and both beaches in September, it is imperative this work is completed now."
Work on the second stage of this £80m Department for Transport-funded project began in November 2020 and once compete this project will protect the town and railway from extreme weather and rising sea levels for generations to come.
For more information about this project, please visit the Dawlish sea wall – section two webpages; or find us on Facebook and Twitter.
For any additional questions or concerns about the work taking place, please call Network Rail's dedicated 24-hour National Helpline on 03457 11 41 41, visit https://www.networkrail.co.uk/communities/contact-us/ or e-mail crwest@networkrail.co.uk.
Peter Grant MP visits Levenmouth Rail Link
As work continues to deliver the £116m Levenmouth Rail Link, Peter Grant, Member of Parliament (MP) for Glenrothes and Central Fife visited site to see first-hand progress that has been made on the project.
The plans for the Rail Link will see the construction of two new stations and the reinstatement of 19 single track kilometres of electrified railway which will reconnect Leven to the national rail network for the first time in more than half a century.
The local MP visited the site of what will be the new Cameron Bridge station and walked along the track bed to get a different perspective on the infrastructure that will be built, and the scale of the task to gain a better insight on what will be built and the scale of the challenge ahead for the project team.
Early progress has seen the reinstatement of the first section of rail to the west of the route at Thornton junction with significant work ongoing at a number of bridges along the six-mile corridor.
The team onsite is also currently working to finalise creation of the compound sites which will support the delivery of work over the next two years and preparing for the next phase of track works.
It is also anticipated that work to strengthen the Leven Rail (Bawbee) bridge on behalf of Fife Council will get underway later this year – subject to planning permission for the diversionary route being agreed.
Completion of the branch line in Spring 2024 will see trains call at Cameron Bridge and Leven stations for the first time since 1969.
Peter Grant MP said: "While I was Leader of Fife Council the Council accepted my recommendation that restoring the Levenmouth Rail Link was our number one public transport priority. It's taken a long time but with cross party support from MSPs, Councillors and MPs, as well as vital support from the people of Levenmouth, the Scottish Government confirmed in 2019 that the rail link would reopen.
"It is great to get an early opportunity to come on-site and see first-hand the work that has been happening since the start of the year and meet the project team who will make this line a reality for the local community.
"Providing low-carbon transport options will make this area more attractive for inward investment and will support growth in tourism, which will both, in turn, support communities and boost the local economy.
Martin McKinlay, Network Rail sponsor for the Levenmouth Rail Link said: "The new line will improve social and economic opportunities for people in the surrounding communities and we are working hard with local partners to maximise the positive impact the project will have right across the area.
"We appreciate that the project has been a long time coming for local people but the start of the delivery phase is an exciting development and shows that the Rail Link is well on its way to becoming a reality.
"It is great being part of a project that that has the potential to be massively positive for the area and to deliver something that will transform the lives of local people and the communities the railway will serve."
Network Rail is encouraging anyone with any questions about the project to email LevenmouthReconnected@networkrail.co.uk or call our 24-hr helpline on 03457 11 41 41.
Railway re-opens following train derailment at Coatbridge
Rail services have resumed after the route through Coatbridge Sunnyside was closed following the incident last Friday.
Network Rail re-opened the railway through Coatbridge Sunnyside this morning following a train derailment last week.
Normal service has resumed after engineers worked around-the-clock throughout the weekend to rerail the train and repair significant damage to the track.
Our team replaced four half switches – moveable sections of track which move trains from one line to another – while specialist 'tamping' equipment was also used to re-align other parts of the track.
No-one was injured during the derailment, which happened at around 21:30 on Friday 6 May, when the train was out of service and travelling at a low speed.
Liam Sumpter, Route Director, Scotland's Railway, said: "Our team has worked tirelessly to carry out the necessary repairs to the track and signalling system, so that normal service could resume today.
"This was an incredibly complex and demanding recovery process that had to be carried out very carefully.
"The vehicle was removed without further damaging the railway infrastructure, which helped us re-open the route as quickly as possible.
"My thanks go to our passengers and the people of the nearby community for their understanding and patience while we worked to re-open the route."
Four-day railway closure to ready railway for Commonwealth Games
Crucial parts of the railway are being replaced over a four-day railway closure between Birmingham Moor Street and Solihull next month.
Network Rail is investing £3m to overhaul switches and crossings – moving parts of track which allow trains from the Tyseley maintenance depot to get on and off the rail network.
It's a key site for three key train operators – West Midlands Railway, CrossCountry and Chiltern Railways.
Any issues at the depot during the Commonwealth Games could cause major delays across the region, including risking overcrowding at key stations serving sports venues.
Replacing the complex equipment now will help train services run smoothly during this summer's Games, which are expected to see more than one million extra passenger journeys across the West Midlands rail network.
The essential upgrades will mean there will be no through train services between Solihull, Birmingham Moor Street and Snow Hill between Monday 20 and Thursday 23 June.
Rail replacement buses will be in operation and people are advised to plan ahead at www.nationalrail.co.uk.
It's the first time in a generation this part of the Chiltern main line will be completely shut for large scale work.
Denise Wetton, Network Rail's Central route director, said: "We know there's never an ideal time to close the railway and a mid-week closure for work like this is rare, but post-pandemic passenger numbers show weekdays are now the least disruptive time to close the railway for vital work.

"This programme of upgrades will improve the network not only at Tyseley but across the wider West Midlands, providing passengers with a cleaner, fresher, more reliable railway throughout our major summer of sport. It will also help to reduce the risk of platforms becoming overcrowded as a result of the predicted one million extra passenger journeys during the Commonwealth Games."
Eleni Jordan, commercial & customer strategy director for Chiltern Railways, said: "Network Rail's crucial track replacement work between Monday 20 and Thursday 23 June will ensure that we can continue to provide a safe and reliable service for our customers across what is expected to be a busy summer on the railways in the West Midlands.

"We will be regularly communicating plans for rail replacement transport in and out of Birmingham. We advise that customers travelling during the closure check their journey on the Chiltern website or app before travelling."
Jonny Wiseman, West Midlands Railway customer experience director, said: "These essential works will make a real, long-term difference to passengers by improving access to Tyseley depot where trains are cared for and refuelled.

"I would like to thank our customers for their patience while this work is carried out and I urge passengers travelling during this period to plan their journeys carefully as revised timetables and rail replacement buses will be in operation."
Engineers and planners will make the most of the four-day railway closure to carry out a host of work, including:
Installing new rails, sleepers and ballast (railway foundation stone)
Stressing rails to cope better with hot weather
Removing overgrown plants and graffiti
Carrying out a deep clean of Birmingham Moor Street station itself
Doing this work further reduces future disruption to passengers and provides a more reliable rail network not only during the Games but for many years to come.
It will also save millions of pounds of taxpayers' money as doing this work outside of a full railway closure would normally take place over multiple weekends over an entire summer.
Passengers are being advised to check before they travel at www.nationalrail.co.uk.
ScotRail's half price seat sale kicks off
From Monday, 9 May until Sunday, 15 May, ScotRail will slash 50 per cent off all Off-Peak tickets, Monday to Friday, to encourage people across the country to return to Scotland's Railway.
This fares offer, funded by the Scottish Government, is the latest 'Yours to Use' initiative from the newly publicly owned train operator, and is focused on welcoming customers back to rail as the country continues to recover from the pandemic.
Customers can book their discounted tickets between 9 and 15 May 2022 inclusive, with travel valid between 9 and 31 May 2022 inclusive.
The 50 per cent off tickets can be purchased in the following ways:
Online at scotrail.co.uk/sale
By phone on 0344 811 0153
Via the ScotRail app, using the promo code SRSALE in the railcards/promotions field
Available on all Off-Peak tickets on valid routes, there are massive savings to be had on train trips across the country. Valid for return travel within a month, Off-Peak return tickets are ideal for those planning a spring getaway, while an Off-Peak Day Return is just the ticket for a fun day out.
Plus, ScotRail's Kids for a Quid can be used in conjunction with this offer, which means up to four children can travel, for £1 return each, with each adult.
Transport Minister Jenny Gilruth MSP said:
"In February, I set out the Scottish Government's vision for a publicly owned ScotRail as a rail service which is focussed on passengers' needs and interests and provides value for money to the taxpayer. This offer is further demonstration of our commitment becoming a reality.
"The Scottish Government understands that people are struggling right now and that the costs of travelling have risen sharply. We want to show people that travelling by train might offer an alternative. Clearly there is more to do to make rail travel more affordable all year round and our fair fares review will look at the cost of travelling on all modes of public transport.
"Our National Conversation on rail services will also help shape what ScotRail services should look like in the long term – allowing the public, staff and our Trade Union partners to be part of that future vision. Public ownership should mean railways that work for the people and deliver for our communities and this Government remains committed to doing just that, working in partnership with ScotRail."
Lesley Kane, ScotRail Commercial Director, said:
"This fantastic offer will mean more people can get out and enjoy Scotland throughout the month of May, whether for a day out or a holiday, so make sure you buy your tickets before 15 May.
"The pandemic has fundamentally changed the way people travel, and it is an absolute priority for ScotRail to do everything we can to attract customers to Scotland's Railway. This offer is a reminder that Scotland's Railway is 'Yours to Use'.
"Travelling by train has many advantages over other modes of transport, and it's crucial that we not only get our pre-pandemic customers back, but also encourage more people to use the low-carbon alternative for their journeys."