The following contains today's releases from the railway industry.
Brighter Journeys campaign set to breathe life and joy into railway stations this May
Mental Health Awareness Week will see the Brighter Journeys campaign grace the concourses of Britain's railway stations as a way of making them brighter, happier community hubs. The joint campaign between the rail industry and mental health charity, Chasing the Stigma, aims to support passengers' wellbeing as people return to the railway since the lifting of Covid restrictions.
The Brighter Journeys campaign will bring the outside to stations, with bursts of colourful flowers in bloom greeting passengers as they embark on their journeys. The aim is that these sensory installations act as a pleasant surprise which lift people's spirits and put smiles on their faces as they head to work, or for days out with their family.
Research shows that interacting with nature puts people in a more positive mindset and makes them feel more grounded and calm. This campaign uses the power of nature to make people feel happier and more connected to their local railway station, while raising awareness of the Hub of Hope app, which signposts people to support services if they are struggling with their mental health.
The campaign comes as new data from the British Association for Counselling and Psychotherapy (BACP) reports nearly three quarters of UK adults (70%) say their mental health has been negatively impacted by the coronavirus (COVID-19) pandemic, with nearly a fifth (19%) describing their mental health as poor*.
Rupert Lown, chief health and safety officer at Network Rail, said: "We recognise that life since the pandemic is difficult for many people, with many challenges yet to be overcome. We hope that by running this campaign, we are bringing happiness and cheer to many passengers as they go about their daily lives, reminding them to take a pause and have a moment to connect with nature. And if they are struggling, the Hub of Hope is a great resource which offers a range of support services in their local area."
Jake Mills, founder of Chasing the Stigma and Hub of Hope app, added: "It is great to be working with Network Rail and the wider rail industry on the Brighter Journeys campaign. Nature is really important for mental health, so we hope commuters enjoy seeing these floral installations and they put a smile on people's faces.
"We also hope that this acts as a reminder that no one is ever alone, and mental health support is available at any time, you don't have to be in crisis to get help. If anyone is struggling or knows someone who needs help, please download the Hub of Hope app."
Dr Lisa Marzano from Middlesex University works with the rail industry to support passengers' wellbeing. She is an expert in mental health and is supporting the Brighter Journeys campaign. Dr Marzano said: "Interrupting someone's routine with a vibrant, positive display could contribute to their wellbeing if they are having a tough day – especially something which centres around nature as research shows this can really lift someone's mood. Although restrictions have been lifted, we are still dealing with the after-effects of the pandemic and the mental health of many people up and down the country will still be in a fragile place. This campaign aims to direct those who are in need to support services no matter where they are, while sparking some positivity among those travelling by train."
Brighter Journeys will signpost people to share and download the Hub of Hope app if they, or someone they know, are struggling with their mental health. The Hub of Hope – provided by Chasing the Stigma – is a free app that connects people to more than 4,000+ mental health support services and groups across the UK.
The Brighter Journeys campaign is also being supported by station retailers (at Liverpool Street Station only). Pure will be providing vouchers for free coffee on Monday 9 May, and Neal's Yard Remedies will be handing out free samples of some of their best-selling products on Tuesday 10 May, 4-6pm.
The sensory installation will be available to visit on the following days:
London Liverpool Street, 9-11 May
Leeds, 13-15 May
Edinburgh Waverley, 17-19 May
Birmingham New Street, 9-10 May
Stevenage, 12-13 May
East Croydon, 15-16 May
Cardiff, 18-19 May
Barrow Haven's new £1.3m platform underway
A brand-new £1.3m platform is being built at a North Lincolnshire station as part of a significant project to reinvigorate passengers' experience and make train travel more attractive.
Barrow Haven station's existing platform will be stripped out and replaced with a new, 60-metre-long structure, which will revitalise the station and make sure that people living in the area remain connected to the railway for many years to come.
Ground-breaking work began over the weekend (Sunday 8 May) and will continue until Monday 8 August. As a single platform station, no trains can call while the work is carried out. Passengers heading off along the Barton-on-Humber route should travel to the nearest stations (New Holland or Barton-on-Humber) to keep their journeys on track.
Matt Rice, North & East Route Director for Network Rail, said: "We're giving Barrow Haven station a much-needed update, which I hope will encourage more people in the area to travel by train. It'll bring a more modern, practical station with better amenities, and I'm excited to see the work now underway.
"We've worked closely with East Midlands Railway to keep the impact as low as possible, for passengers as well as those living nearby. I'd like to thank people for their support and apologise for any inconvenience our work causes."
Raised tactile pavings will be also added along the length of the platform to help visually impaired passengers know when they're close to the edge, making the station much safer for everybody.
East Midlands Railway are contributing a further £26,000 to fund additional station upgrades, including a new waiting shelter, cycle racks and station signage as well as a solar-powered help point.
Lisa Angus, Transition and Projects Director for EMR said: "We're delighted to see this significant set of customer improvement works improving Barrow Haven station on our Barton-on-Humber route.
"As the station will be closed during this time, we're encouraging passengers to travel to the nearest stations, New Holland (2 miles away) and Barton-on-Humber (4 miles away) if possible. Taxis will be provided for any passengers unable to do so.
"We would like to thank our passengers for their patience whilst the works are taking place."
Passengers urged to plan ahead when using Lichfield Trent Valley station
Passengers using Lichfield Trent Valley station should plan ahead as journeys are impacted by a platform closure.
Platform 3 at Lichfield Trent Valley on the Cross City line, which also links platforms 1 and 2 on the West Coast main line, has been temporarily closed for safety reasons. The closure means Cross City line trains are currently unable to call at Lichfield Trent Valley and passengers cannot interchange between platforms 1 and 2.
West Midlands Trains is providing a regular bus service between Lichfield Trent Valley and Lichfield City to allow passengers to connect to Cross City line services. A bus is also running between platforms 1 and 2, which has a long alternative walking route.
Network Rail is working on plans to reopen the platform by installing a temporary support structure. It is expected this will take several weeks to install. The platform was due to be replaced in 2023 and plans are now being reviewed to bring that work forward.
Denise Wetton, Central route managing director, said: "I am sorry for the inconvenience caused but we had to reduce any risk to passengers and put safety first. We are working as quickly as possible to reopen the platform so normal service can resume. Thank you to passengers for their ongoing patience."
Jonny Wiseman, customer experience director for West Midlands Trains, said: "I would like to thank our passengers for their patience while this important safety work is completed on platform 3 at Lichfield Trent Valley. The platform closure affects both Cross City line trains and access to West Coast Main Line services so I would urge passengers to plan ahead and allow extra time."
Passengers can plan their journeys and check before they travel at www.nationalrail.co.uk or www.westmidlandsrailway.co.uk.
Winnie the Wellbeing Piano to help promote mental health and wellbeing at Reading station
Winnie the Wellbeing Piano will burst into life tomorrow (Tuesday 10 May) when colleagues from Great Western Railway and Network Rail hit the high notes at Reading station.
Railway chaplain John Roe will be tinkling the ivories from 1000 as a piano designed to promote mental health and wellbeing is officially unveiled during Mental Health Awareness Week.
'Winnie' is located before the gate-line on the north side of the station, meaning you don't have to travel and can just rock up and play a tune.
John will be accompanied by the newly-formed 13-strong GWR Wellbeing Choir and colleagues from Network Rail as he plays the ABBA classics Mamma Mia! and I Have A Dream, plus Leonard Cohen's Hallelujah.
'Winnie' was sourced by GWR Train Manager and Wellbeing Champion Beth Witney, who found it listed for free on Facebook Marketplace.
Beth said: "We were discussing lots of ideas in a wellbeing meeting and when a piano was suggested I thought I'd grab the bull by the horns and find one.
"I found one listed for free on Facebook 10 minutes from my home in Tilehurst. It was being given away by a lady who'd had it since she was a little girl. If we hadn't turned up it was going to be sent to landfill."
Network Rail Station Operations Manager at Reading station, Harry Smith, said: "We are delighted to welcome Winnie the Wellbeing Piano to Reading station, which I am sure will be a welcome addition and something passengers and visitors alike will enjoy playing.
"The wellbeing of our passengers and staff is something we take really seriously and we're committed to doing all that we can to make the time people spend on the railway and in our stations as pleasant and enjoyable as possible, and this piano will undoubtedly help with that.
"I look forward to having a play on the piano myself, not that I expect my playing will warrant an audience!"
GWR Wellbeing Manager, Lucy Shephard, added: "Music is a great way of boosting mental health and we think this will be a popular addition. Several of our Wellbeing Champions and Mental Health First Aiders will be at Reading to provide some musical cheer for customers. We're also delighted that our colleagues from Network Rail have been so supportive and will be joining us on the day."
Glasgow's Argyle line reopens on time for passengers
The route between Rutherglen and Exhibition Centre has re-opened following a £32m improvement project.
Network Rail has successfully completed work to the Argyle line, which will reopen as planned this Monday (May 9) following an eight-week programme of extensive engineering works.
The line closed on March 13 to allow engineers to deliver a £32m investment in repairing and renewing tunnels, bridges and tracks between Rutherglen and Exhibition Centre
It was the most significant piece of engineering on the line in a generation and was all designed to improve punctuality and reliability for passengers for years to come.
Engineers removed 500 tonnes of concrete encasement from the tunnels, with 700 structural beams repainted and more than 1,000 square metres of waterproofing applied.
All ScotRail services affected by the work resumed in time for the start of Monday morning service.
Jenny Gilruth, Transport Minister, said: "Passengers will undoubtedly welcome the news that this particular programme of work and its associated closures have come to an end. I'd like to thank them for their patience throughout, particularly users of Anderston station. I would also like to thank all of the staff at Network Rail and ScotRail who have facilitated these improvements, delivering them on time and within budget.
"The Scottish Government has provided £32m of funding for this work and will continue to significantly invest in rail infrastructure and services in Scotland which helps us to attract passengers back to rail. It is vital that we deliver reliable infrastructure and do so in a manner that minimises the impact of disruption to passengers and freight.
"Any project of this scale brings with it a number of challenges but at the same time also delivers significant improvements to Scotland's Railway for passengers, including a reduction in the need for future disruption arising from any future works.
Jeremy Spence, programme manager, Network Rail, said: "I am pleased that this major programme of work to the Argyle line has been completed both on time and within budget.
"The complexity of a project that covers multiple work sites, involves a range of disciplines, not to mention the mobilisation of plant and equipment, is not without significant challenges. It's a credit to the Network Rail project team, our contractors and supply chain partners that every element was delivered safely and on time.
"The outcome is a comprehensive programme of improvements and enhancements that futureproof Scotland's Railway for passengers, as work on this scale will not be required for many years to come.
"Closing part of our infrastructure is something done rarely, as we fully appreciate the impact of this on our customers. Our decision was weighed against whether it was best to complete the work over an intense period of time by closing the line completely or prolong it over many months by only being able to undertake work at weekends.
"I would like to thank all the passengers whose travel plans have been affected for their patience and understanding over the past eight weeks."
David Simpson, ScotRail Service Delivery Director, said: "This was an ambitious programme of work and it's great to see that it's been completed on time, within budget, and with alternative transport arrangements working well for customers.
"The work has helped future proof the line and customers can look forward to a better journey experience.
"We'd ask them for a little bit more patience as we carry out further essential work at Anderston station over the next four weeks.
"We'll be upgrading the entrance, booking office, concourse and platforms and installing a lift for better customer access.
"This is all part of our strategy to make ScotRail fit for the future with investment in infrastructure, more reliable timetables, and great offers like the half-price ticket sale which begins on 9 May."
The Argyle line project includes improvements to Anderston station, with the closure of the station extended by four weeks until June 6. This is to allow engineers to complete critical work on the entrance, booking office, concourse and platforms.
By extending the closure, the most critical work will be finished earlier and reduces the overall time taken to renovate the station by 12 weeks, completing in the autumn instead of by December 2022.
Once complete, the station will feature a lift for better customer access, a remodelled booking office and modern finishes on the stairs, floors and ceilings. This also includes improving the outside area to the station, with a new-look glazed entrance and enhanced external lighting.
For up-to-date service information on the Argyle line, please visit https://www.scotrail.co.uk
If you have any questions about extending the closure of Anderston station, you can contact Network Rail's 24-hour national helpline on 03457 11 41 41. For the latest and progress updates follow on Twitter @NetworkRailScot and @ScotRail.
Boost for rail freight as industry joins forces to improve safety and performance
In a first for rail freight in Britain, Network Rail has joined with key industry partners to tackle delays and safety risks in a boost for the country's thriving freight sector.
Data analysis by Network Rail, freight operators and the Rail Safety and Standards Board (RSSB) has shown that most delays on the freight network are due to wagon defects, including various brake faults, wheel faults, decoupling and door faults. If undetected, these defects have the potential to cause delays and safety risks to rail traffic.
The Condition of Freight Vehicles on the Network (CFVN) programme – funded by Network Rail's £20m Freight Safety Improvement Portfolio (FSIP) – has developed processes for train preparation, wagon maintenance and the important role human factors play in performing safety critical tasks to reduce risk and improve performance across the network.
David Ethell, independent project manager for the National Freight Safety Group (NFSG), which oversees the CFVN programme, said:
"This is a sector wide project looking at learning and sharing good practice from across all the freight operating companies in Britain, to find where improvements can be made so we can introduce one common industry standard for the safe preparation of freight trains and vehicles.

"The maintenance of freight wagons to prescribed standards and the safe preparation of trains by qualified and competent staff are fundamental requirements of operating a safe freight railway. By resourcing the CFVN workstream the freight industry can collaborate and build better understanding of the factors impacting this risk."
Speaking at the launch at DB Cargo's Margam freight yard – one of the company's busiest sites where on average around 40 freight trains arrive and depart the yard each day – Dougie Hill, from RSSB, spoke to the DB Cargo operations and engineering teams performing these safety critical duties and said:
"We need to hear your experiences. Your roles are of key importance in the safe operation of freight trains and fundamental to assisting the sector in improving and reducing derailment risk. Having such expertise on the ground every day is critical in the safe delivery of freight traffic. Sharing professional knowledge and understanding the challenges faced by the teams will be key in the development of CFVN risk mitigation action plans.

"I am delighted by how engaged, positive and motivated the ground staff and wagon fitters at Margam are in assisting us in this most important project."
Marc Binney, head of safety for DB Cargo, said:
"This is very much a collaborative approach being taken by the freight sector. The project is incorporating all the rail freight operators where we will be looking at things collectively to find what we can do better together as an industry. When I look at the other freight operators, I see that we are all doing some train preparation and processes slightly differently so this project will look at how we can introduce a cohesive industry wide standard."
SUNBELIEVABLE – Enough tickets sold in Rail Sale to reach the Sun
With more tickets sold than the entire population of Britain's second largest city, Birmingham, the Great British Rail Sale has been a runaway success. Through this first-of-its-kind sale, this spring will see over 128 million miles of discounted journeys travelled on UK railways.
This first-ever industry wide sale saw more than one million rail tickets slashed by up to 50%, saving passengers over £7 million (or 15,000 years' worth of takeaways*). The total distance of the journeys sold would create a rail trip from the Earth to the Sun and beyond, boldly going where no train has gone before. The Great British Rail Sale was launched to help ease some of the pressure on family finances at a time when the cost of living is increasing for people in the UK and across the wider world.
The average price of tickets was around £7.50 during the sale, and the most popular routes have been:
Newcastle to York
London to Nottingham
Oxford to London Paddington
London to Sheffield
Cambridge to London
Transport Secretary, Grant Shapps said:
"The Great British Rail has been unprecedented in its scale, and equally unprecedented in its success.

"It has been fantastic to see so many of you jumping at the chance to head out on to our brilliant railway network, reconnecting with loved ones and exploring your favourite places across the country.

"The whole rail family has come together to help passengers facing rising costs of living by saving hard working people millions on their journeys across Britain this spring"
Jacqueline Starr, CEO of the Rail Delivery Group, said:
"We are delighted that so many people have been able to take advantage of the Great British Rail Sale, and are exploring the fantastic locations that are accessible by rail for less at a time when we're all feeling the squeeze. Customers who are planning to travel by train this summer can still make great savings on their next train journey by booking in advance, travelling off-peak or with a Railcard that provides 1/3 off most fares."
The Government is listening to people's concerns about rising living costs and is taking action with more than £22 billion of support in 2022-23 alone – which includes helping with the cost of energy bills and to efforts to ensure people keep more of their money. Offering half-price rail tickets is one of the ways the Government is further supporting families with the cost of living.
Northern line Bank branch to re-open on schedule on Monday 16 May as TfL completes the current phase of vital upgrade work at Bank station
The Bank branch of the Northern line will re-open on schedule on Monday 16 May, after a 17-week planned closure as part of the Bank Station Capacity Upgrade project. Customers will be able to use Northern line services at all Bank branch stations between Kennington and Moorgate again from this date.
In addition, the new, wider southbound Northern line platform and spacious new customer concourse at Bank station will open to customers for the first time on the same day. Transport for London's (TfL's) project team have worked throughout the 17-week closure to safely finalise work on the brand-new Northern line tunnel and passenger concourse. They have also completed three new passageways, which will make moving around the station quicker and easier for Northern line customers, who should follow the new signage and directions from London Underground staff as they familiarise themselves with the new layout.
The last day of service for the Route 733 bus, which was introduced specifically for the Bank branch closure period, will be Friday 13 May.
The upgrade of Bank station will see its capacity increased by 40 per cent when work finishes later this year, with improvements still to come including step-free access to the Northern line and improved access to the DLR platforms, two new moving walkways, 12 new escalators and two new lifts. There will also be more direct routes within the station and a new station entrance on Cannon Street. Improving Bank station, at the heart of London's financial district, by addressing long-standing capacity issues and making journeys through Bank safer, easier, quicker and more comfortable when fully complete later in 2022 is critical to supporting the growth and success of the City.
Work that has been completed at Bank station during the closure period includes:
Connecting the new southbound Northern line tunnel to the existing railway
Converting the former southbound Northern line platform, which was built more than 100 years ago, into a new, spacious customer concourse
Installing all new track and railway systems within the new tunnel, followed by commissioning activities using multiple test trains
Fitting out the new station areas, which included installing flooring, wall coverings and signage on the new southbound Northern line platform
Stuart Harvey, Chief Capital Officer at Transport for London, said: "I'm delighted to confirm that we're on schedule to fully re-open the Northern line on Monday 16 May after successfully completing the challenging next phase of vital upgrade works at Bank station. I'd like to thank our customers for their patience during this closure. The improvements we're making at Bank station will be finished by the end of this year and will totally transform customer journeys through the station. Anyone who's familiar with Bank station will know how its labyrinthian layout can be confusing and time-consuming to navigate.
"Northern line customers now have a new, wider southbound platform and spacious customer concourse. The countdown is on for completing the rest of this major upgrade which is one of the largest and most complicated subterranean railway complexes in the world."
During the closure of the Bank branch of the Northern line, essential work was also carried out at other stations including London Bridge, Borough and Elephant & Castle so that future disruption to customers would be minimised. This included work on lifts and escalators, as well as refurbishment work at Borough, and enabling works for the future Elephant & Castle station upgrade.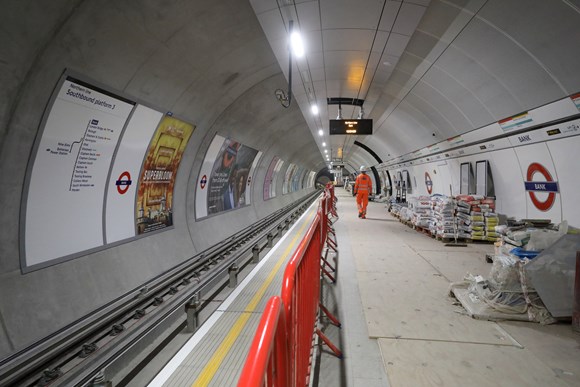 The next phase of works at Bank station will now turn to the key interchange connections which includes the new escalators linking the Northern line to the DLR, and the two new moving walkways and three new escalators connecting the Northern and Central lines.
TfL is reminding customers to continue to check before they travel in the final week of the closure of the Bank branch between Kennington and Moorgate, as many lines and stations across central London are busier as a result. Customers can check how busy their station is before they travel, using the TfL website's Journey Planner or via the TfL Go app.
Full travel advice is available at tfl.gov.uk/northern-line-closure
All Aboard the Visitor Economy Express! Northern throws weight behind Newcastle Gateshead Initiative activity
Train operator, Northern, is set to partner with Newcastle Gateshead Initiative (NGI) on a range of activity identified as crucial to the visitor economy.
The two organisations will focus on activity that will boost the city-region's tourism offer, inward investment credentials and ease of access to the night-time economy.
The partnership comes ahead of a crucial year for the region, as it gets set to host the Rugby League World Cup, mark the 1900th anniversary of Hadrian's Wall and see the £300m redevelopment of Quayside.
Commenting on the planned activity, Kerry Peters, regional director for Northern, said: "Our services from Bishop Auckland, Carlisle, Chathill, Saltburn and Whitby have an important role to play in bringing people from across the North of England into both Newcastle and Gateshead.
"NGI has a great track record at both championing and delivering for the people and businesses of the region and we're delighted to throw our weight behind their efforts."
Sarah Green, chief executive of NGI said: "Our partnership with Northern is key in developing our offer and ability to promote our destination further afield.
"Transport partners are essential to NGI being able to show the ease and accessibility of public transport to NewcastleGateshead and we look forward to working together with Northern on a number of exciting projects in the future."
Northern is the second-largest train operator in the country, with nearly 2,000 services a day across the length and breadth of its 500+ station network.
Samaritans to lead new mental health study for rail industry
Suicide prevention charity Samaritans has been commissioned by train operator Great Western Railway and the Department for Transport to lead a new research study on mental health and wellbeing support for the rail industry, in partnership with Mental Health at Work.
With the impact of two years working in a pandemic and uncertainty and change on the horizon for the rail industry, the study comes at a crucial time; when support for the sector is needed now more than ever.
Working with Mental Health at Work, Samaritans' study will provide good practise recommendations for mental health provision, so that the industry can raise awareness for their staff and support those experiencing mental illness. It will aim to highlight existing barriers, as well as encourage a culture shift to destigmatise conversations around mental health.
A recent Rail Safety and Standards Board survey found that railway employees experience 1.5 times higher rate of anxiety compared to the rates seen in the general population. The survey also found that 43% of rail workers have a mental health condition and more than half of those said they experienced psychological or mental health issues because of their work in the rail industry, but only half had sought help.*
This Mental Health Awareness Week, the charity is calling on rail staff across the sector to contribute to the study and have their voices heard by taking part in an industry-wide survey, interviews and group discussions.
The short online survey will ask staff about their own experiences, their understanding of available support and their thoughts on improvements in seeking help. Launching in June, rail staff are invited to take part within the next six months, with the final study report being available next year.
Samaritans Research Project Manager, Suzy Ludlow, said: "We're excited to be delivering this important study to support the mental health and wellbeing of the rail industry, thanks to GWR and DfT's commitment.
"We know the pandemic has had a huge impact on the rail industry and its staff and this is likely to be felt for some time, so it's so important and timely that we delve into what support is currently available and see where we can recommend improvements, so that every single person in the industry feels comfortable to be open about their mental health and supported to get the help they need.
"We really want to encourage rail staff from all areas to get involved in the survey – from the frontline to the managing directors – so everyone can have their say. Having worked with the rail industry for over 10 years in suicide prevention, Samaritans knows the traumas that rail staff can face, so we hope this study will make a huge difference to the industry."
GWR HR Director, Ruth Busby, said: "We've been working closely with the DfT and colleagues from across the rail industry to develop a study which will help to promote and support positive mental health.
"The wellbeing of our colleagues is so important and this study is a further sign of our commitment to promoting an environment that supports positive mental health and supports colleagues experiencing trauma or mental illness.
"We look forward to learning the results from the study. This cross-industry approach means we can share best practice, learn from one another and provide the best support we can."
Alison Pay, Managing Director for Mental Health at Work, said: "We are delighted to be working alongside Samaritans on this important research initiative for the rail industry. Supporting organisations to build capability across the mental health agenda for all employees, is at the centre of our work.
"Understanding mental health and wellbeing, with consideration for the extremely challenging circumstances of recent years, is pivotal in destigmatising conversations and encouraging access to appropriate and timely support. This research project will provide leaders with the information to make informed decisions on the future mental health strategy and support across the rail industry."
Samaritans has worked in partnership with Network Rail and the wider rail industry since 2010 to reduce suicide on the railway and support those affected by them. The charity has trained 25,000 rail and British Transport Police staff in suicide prevention, as well as providing trauma support courses and working with the charity's 20,000 listening volunteers to provide emotional support to staff and customers when needed across the network.
CASE STUDIES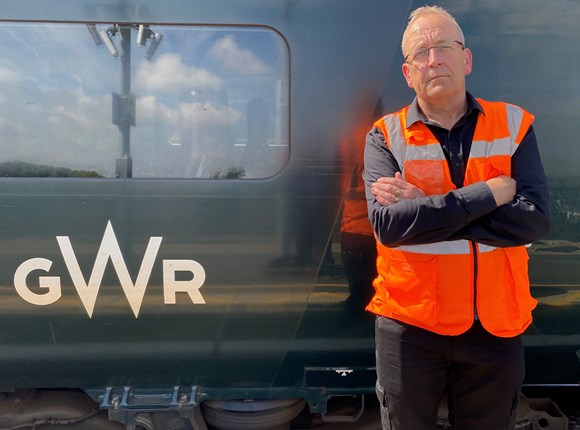 Darran Hickery, GWR Depot Engineering Manager Technician, knows the importance of looking after our mental health following his own experience with depression. Darran is a big advocate for inspiring others to be open in the workplace to destigmatise mental health.
Darran said: "I've worked in the rail industry for 31 years. When I look back, I was on a downward spiral from the end of 2017, but I didn't realise it at the time. I was trying to keep up with work and there was so much pressure, but I was putting on a front. One day in April 2018, I'd been in a conference that morning, which hadn't gone well. I came out of it and went outside and phoned a colleague for a chat and I just burst into tears. I went to see my boss and I said, 'I'm not alright'. Being a man, and even in 2018, there wasn't much talk about mental health – thankfully today there is a massive difference and things have moved along.
He added: "I was off work for 17 weeks in total and when I came back, I was open and honest about my experience. When I opened up it was absolutely amazing how many others then shared their experiences. It's a cliché but I don't want anyone else to go through what I did. I manage my own mental health now by talking and helping others – sometimes a simple smile and a chat can be enough. We're all human beings at the end of the day. If we can be a bit more sociable and look out for each other, it will be a better place."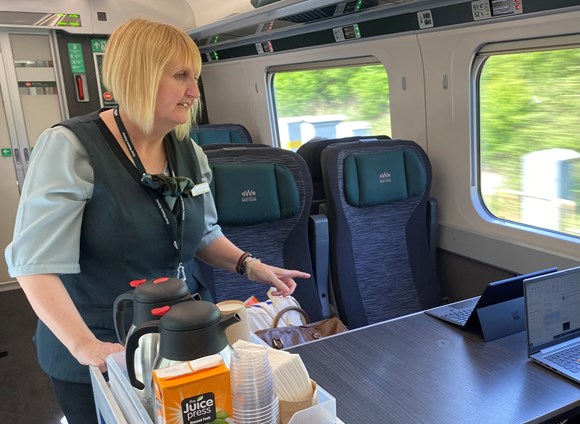 GWR Lead Customer Host Carol Foster also uses her personal experience to help others at work now that she's a Mental Health First Aider. Carol said: "My story started in my 20s, before I joined the railway. It started with anxiety – I started having palpitations and panic attacks. I remember calling the doctor the first time it happened thinking I was having a heart attack. I managed to get to a point where I had control of it, but then halfway through our marriage my husband got sick and that's when things started going even further downhill. He became clinically depressed and his behaviour in turn made me depressed too. There was only so much I could take, and I had terrible thoughts.
Carol added: "Part of what happened has made me who I am now. I think what I've been through makes being a Mental Health First Aider better. Having been there, I can empathise better with people because I know what I needed to hear. Being part of the onboard crew, I'm always visible and people see me out and about if they need to chat to me. I do find that helps some people – they just want to offload. 'A problem shared is a problem halved' really does make a difference."
For more information and to get involved in the study, please email the Research Project Manager Suzy Ludlow at s.ludlow@samaritans.org
When life is difficult, Samaritans are here – day or night, 365 days a year. You can call for free on 116 123, email jo@samaritans.org, or visit www.samaritans.org
Local brewery helps transform disused spot at Lancaster station
Local brewery opens new pub at Lancaster station following transformation of disused space.
Avanti West Coast, Lancaster Brewery and Network Rail restore former storeroom
Works to transform station's Grade II Listed building into pub now complete
New venue at Lancaster station celebrates region's railway heritage
A new pub has opened its doors at Lancaster station following works by a local brewery, Avanti West Coast and Network Rail to lovingly restore a space which remained unused for more than 40 years
Tite & Locke, a cask and keg beer emporium owned by Lancaster Brewery, is located on platform three in what was previously the station's old storeroom.
Lancaster Brewery, Avanti West Coast, Network Rail and The Railway Heritage Trust joined together to carefully transform part of the Grade II Listed building, which has remained empty since it was used as a storeroom more than four decades ago.
The pub's name celebrates two men who played a key part in Lancaster's railway – architect, William Tite, who designed Lancaster station in the 1800s; and engineer, Joseph Locke, whose greatest legacy is the West Coast Main Line.
Adorned with rail memorabilia and featuring an original fireplace and tiled floor, which have been hidden for many years, Tite & Locke gives a nod to Lancaster's railway heritage.
Efforts to give the space a new lease of life is part of the intercity operator's commitment to work with local SMEs (small and medium-sized enterprises) and make its stations part of the communities they serve.
Tite & Locke is Lancaster Brewery's latest venue to open in the region and is the first of its kind for the brewer – offering customers the chance to spot trains or catch a glimpse of the showcase beer cellar.
Michael Byrne, Avanti West Coast Station Manager at Lancaster, said: "We want to champion local businesses, so it has been great to work with Lancaster Brewery who shared our aspiration to transform this beautiful building and celebrate the region's railway heritage.
"We're delighted to see Tite & Locke open its doors and are proud to have played our part in bringing a new lease of life to this area of the station. We're sure this unique space will be enjoyed by the local community and those travelling to and from Lancaster by train for many years to come."
Phil Simpson, Director of Lancaster Brewery, said: "It's really been a long-haul involving years of discussion, work and worry but it's clear all the pain has been worthwhile. It's a beautiful little pub, in a fascinating location with a uniquely diverse customer base. Our thanks to Avanti West Coast and Network Rail who have proven to be insightful, encouraging, and inspirational partners."
Rory Kingdon, Senior Sponsor at Network Rail, said: "The design of the new public house at Lancaster station is not only sympathetic to the historic nature of the building, but it also delivers a new leisure facility for passengers, making this key West Coast Main Line transport hub an even more welcoming place to be.
"With the rail network bustling again, we're calling on businesses, health care providers, charities and community groups, to make use of the rooms within rail stations and the high footfall of people they bring, to develop their potential."
Tim Hedley-Jones, Executive Director of the Railway Heritage Trust, said: "The Railway Heritage Trust has been pleased to support the Lancaster Brewery in the development of the Tite and Locke pub. We are very pleased with what has been created. It aligns well with our objective of bringing redundant space back into use at listed stations while at the same time creating a great new facility for customers."