My apologies for the lack of news this week but I have been dealing with a bereavement.
TfL releases initial ridership figures for the Elizabeth line
The transformational Elizabeth line opened on tuesday 24 May with tens of thousands of customers making fast and seamless journeys through the heart of London. The new railway, which is supporting faster journeys across London, and new jobs and economic growth throughout the country, is the most significant addition to the capital's transport network for a generation.
On tuesday morning up until 10am, an estimated 130,000 journeys took place across the Elizabeth line, which runs between Reading, Heathrow, Abbey Wood and Shenfield. Of these, around half (65,000 journeys) involved the new central section between Paddington and Abbey Wood.
In terms of specific stations on the Elizabeth line:
The new Paddington Elizabeth line station has already seen 14,000 entries and exits up until 10am
The new Canary Wharf Elizabeth line station has already seen 9,000 entries and exits up until 10am
The new Woolwich Elizabeth line station has already seen 6,000 entries and exits up until 10am
The new railway will provide new journey options and support wider regeneration and recovery from the pandemic – creating jobs, business opportunities and a huge economic boost for the country. It will also connect London's major employment centres and increase central London's rail capacity by 10 per cent, the largest single increase in the capital's transport capacity in more than 70 years.
Andy Byford, London's Transport Commissioner, said: "It was fantastic to see thousands of excited customers waiting for the Elizabeth line to open this morning and board the first trains from Paddington and Abbey Wood. Tens of thousands of journeys have already been made on the new central section of the Elizabeth line since it opened this morning. This stunning addition to the transport network will transform life and travel in London and the South East by dramatically improving transport links, cutting journey times, adding capacity, transforming accessibility and supporting the economic recovery and growth throughout the country for years to come."
Rail industry welcomes opening of "bold" Elizabeth line
On the day that the Elizabeth line opens, the Railway Industry Association (RIA) has welcomed it as a "bold" project which will boost rail's future and drive economic growth for the entire country.
RIA represents over 300 rail businesses around the UK, many of whom were involved in the construction and operation of the new Elizabeth line.
Darren Caplan, Chief Executive of the Railway Industry Association (RIA), commented: "The Elizabeth line really is an exceptional achievement for TfL, Government and the UK railway industry. It is a bold project that will not only transform how passengers travel across London, but it will also boost economic growth for the capital and the country as a whole.

"Railway businesses from all over the UK have played a key role in making this landmark project happen, whether train manufacturing in Derby, station construction in the East Midlands, signalling expertise from Chippenham and Stockport, or telecoms in London. Furthermore, the scheme has supported thousands of skilled railway jobs and significant investment in other parts of the economy beyond rail.

"With passengers now returning there is a strong long-term future for rail, and the Elizabeth line will make that future even brighter."
Image – Representatives from RIA, Alstom and Siemens Mobility at Paddington Elizabeth line Station   
LNER urges customers to plan ahead for the jubilee bumper bank holiday weekend

London North Eastern Railway (LNER) is urging customers to plan and book ahead to secure their seats as the nation prepares to mark Her Majesty The Queen's Platinum Jubilee.

LNER services during the four-day bank holiday from Thursday 2 June to Sunday 5 June 2022 are expected to be popular with celebrations taking place across the country to commemorate the Queen's historic 70-year reign.

LNER is also entering the Jubilee spirit, adding special touches to surprise and delight customers at its stations, which will be dressed in Platinum Jubilee bunting. Delicious cream tea boxes will be available as part of the onboard selection of snacks and refreshments at the Café Bar in Standard across the long
weekend.
Customers travelling in First Class will be able to enjoy a complimentary range of locally sourced food featured in a new summer menu and there will be a special Strawberries and Cream popcorn treat to mark the occasion.

Claire Ansley, Director of People and Customer Experience at LNER, said:
"We're proud to play our part in this historic occasion making sure customers enjoy the best possible experience as they make their journeys along the East Coast route. We are expecting LNER services to be very popular, so we're advising people to plan ahead, reserve their seats and leave plenty of time to reach the station and make their way to the platform."

For people travelling to London or looking for inspiration around royal connections across the LNER route, there's a dedicated web page offering top tips and travel advice about places to visit :
https://www.lner.co.uk/our-destinations/queens-platinum-jubilee/

Customers can book direct, fee free and with ease using LNER's mobile app and website, where they can register for live journey updates, select their own seat, and earn rewards by signing up to the LNER Perks loyalty scheme.

As part of this year's Jubilee celebrations, LNER is proudly saluting colleagues in the rail industry who have worked on the Royal Train. The special video, shared on its social channels, features the stories of an LNER driver, British Transport Police Officer and Network Rail signaller sharing their sense of pride in helping to keep the Queen on the move for 70 years.

The video can be viewed here:

LNER is currently operating a 100 per cent timetable with tickets available for booking as far ahead as September.
Piccadilly line to serve South Kensington Tube station again from 1 June
Vital work to replace the five escalators serving the Piccadilly line at South Kensington is near completion
Piccadilly line trains will serve South Kensington station again from Wednesday 1 June, ahead of the Platinum Jubilee Bank Holiday
Essential work to replace the five escalators that serve the Piccadilly line at South Kensington is nearing completion, with Piccadilly line trains due to stop at the station again from Wednesday 1 June.
The complex escalator replacement work started on 27 February 2021 and has seen all five Piccadilly line escalators at South Kensington station replaced. The escalators, which were installed in 1973 and were at the end of their lifespan, had become unreliable and were the highest priority escalators for replacement on the Tube network.
South Kensington station remained open for Circle and District line customers for the duration of the works.
The essential work means that the station, which prior to the pandemic saw almost 34 million customer journeys each year and provides an important gateway to the world-famous cultural attractions in the area, will have five new, high-performing escalators for decades to come. As well as being more energy efficient than their predecessors, the new escalators are also more reliable and less prone to failures, meaning a better experience for Londoners and visitors using the station.
Esther Sharples, TfL's Director of Asset Performance and Capital Delivery, said: "I'd like to thank our customers for their patience while Piccadilly line services have been non-stopping at South Kensington. Replacing the nearly 50-year-old escalators with new, high-performing machines will mean more reliable journeys for Piccadilly line customers for decades to come, whether they are using the station as a local resident, for work or to access the area's world-famous cultural attractions. I'm delighted that the Piccadilly line will serve South Kensington again ahead of the Platinum Jubilee celebrations, which will bring more visitors to the area as they seek to enjoy all that this vibrant area of London has to offer."
Before the Piccadilly line starts serving South Kensington station again on 1 June, TfL has taken the opportunity to deep clean the Piccadilly line platforms as well as all stairs and corridors leading to them, re-painted the arcade stairways, and replaced the tiles at the top and bottom of the new escalators. In addition, the customer areas between the escalators have been re-surfaced.
The escalator replacement work at South Kensington took 15 months to complete due to the complexity of working with such historic assets, the access restrictions from the street through the arcade and station buildings (all of which are listed) and the extensive works that needed to be completed prior to the escalators being delivered and installed.
Emily Candler, Executive Director of Exhibition Road Cultural Group, said: "I am delighted that South Kensington will have a full service again making it easier for people to come to all the exciting events and activities here. The Great Exhibition Road Festival returns on 18-19 June and we're gearing up for a fantastic summer with free activities for all ages, great exhibitions, and unforgettable performances. The station being fully open for the first time since the pandemic will make a huge difference to visitors, staff, students and residents and help us to welcome people back to London's original cultural district."
London Underground's escalators are heavy-duty machines and tend to be in operation in both directions for up to 20 hours a day. They weigh around 40 tonnes each and carry millions of people each year. A typical 15-metre rise escalator has approximately 15,000 moving components. Thirty-four of the new high-performing escalators of the same type that have been installed at South Kensington Tube station are already in operation at London Underground stations. Sixty-four of these high-performing escalators have also been installed on the Elizabeth line, which launched earlier this week.
Those travelling to South Kensington will also be able to visit a range of new tenants on the TfL retail estate, which extends out of the station and along Pelham Street, Thurloe Street and the South Kensington Arcade. The new retailers, who have opened during these vital works, are bringing new, high-quality food and beverage options to one of London's most popular visitor destinations. TfL's investment in its retail estate is testament to its commitment to encouraging people back into London to enjoy all the capital has to offer.
Jubilee Weekend train travellers advised to allow extra time
Thameslink and Great Northern are advising people travelling to events by train over the Platinum Jubilee Weekend to plan their journey in advance, re-check before setting off, and allow extra time to get there and back.
Trains and stations will be exceptionally busy over the weekend because of the many events taking place, especially when crowds are leaving the bigger events. As well as the Jubilee celebrations in central London, these include concerts at Knebworth Park and the Emirates Stadium, and festivals at Bedford, Luton and Hatfield.
Rail travellers to and from the Liam Gallagher concerts at Knebworth Park are encouraged to use Stevenage station, which has a more frequent service than the much smaller Knebworth.
Jenny Saunders, Customer Services Director for Thameslink and Great Northern, said: "We're going to run some trains with extra carriages, and event organisers are working with us to encourage visitors to plan their travel carefully and consider all their transport options and possible alternatives.
"There may be queues at some stations before and after the bigger events. We'll be ready with additional staff and queuing systems, but you may not be able to board the first train. If you're relying on the last train of the day, please make sure you know when it's due to leave and allow plenty of extra time to catch it."
All passengers should plan and re-check their Jubilee Weekend journeys at www.nationalrail.co.uk.
The north's biggest train operator achieves Gold Standard from Investors in People
Northern is delighted to confirm that it has been awarded the Gold standard to the internationally recognised Investors in People scheme.
The north of England train operator, which employs close to 7,000 people, has been assessed through a rigorous process to have made work better and has improved on its Silver accreditation from 2019.
Investors in People (IiP) is an independent and non-profit making organisation that reviewed what it was like to work at Northern through an all-colleague survey and more than 120 staff interviews.
The Gold standard is extremely difficult to achieve, and Northern accreditation puts it in the top 83% of organisations assessed across the globe.
In their report, the IiP assessors recognised a number of highlights which they said Northern should be proud of.
Northern was deemed to have a very clear vision and long-term business plan, allowing colleagues to understand expectations, targets and their contribution to operating a successful service providing more than 100 million passenger journeys a year.
Assessors praised the collaborative internal approach and noted colleagues were encouraged to 'go do their thing' whilst Learning and Development within Northern was acknowledged as sector leading with fantastic opportunities for personal development and career progression.
Northern has worked hard on and is extremely proud of its approach to equality, diversity and inclusion and the IiP experts agreed that significant progress has been made in these critical areas.
Strong two-way colleague communication and the use of feedback within the workplace were also viewed as positive and making a difference to internal culture.
Nick Donovan, Northern's Managing Director commented: "This is fantastic news and everyone at Northern is proud of achieving the Gold standard accreditation.
"Gold is not an easy thing to achieve, and the review process has been rigorous and detailed. I am delighted that Investors in People assess Northern to be one of the best performing people organisations in this country.
"It's our great people doing their thing day in and day out that have made the difference and I want to thank them for their continued hard work and commitment.
"We won't rest on our laurels, and we will continue to work together to make Northern a great place to work."
Over the last 30 years, Investors in People (IiP) have accredited more than 50,000 organisations and their accreditation is recognised in 66 countries around the world, making it the global benchmark when it comes to people management.
Paul Devoy, CEO of Investors in People, said:  "We'd like to congratulate Northern. Our Gold accreditation is a fantastic effort for any organisation, and places Northern in fine company with a host of organisations that understand the value of people." 
Boston level crossing gets reliability upgrade next month
A level crossing in Boston, Lincolnshire is set to be upgraded next month (June) to improve reliability for key freight services travelling to and from the town's port.
From 7pm on Saturday 11 June until 2pm on Sunday 12 June, a section of the A16 (Spalding Road) will be closed to allow engineers to safely replace over 140 metres of rail through Boston Bypass level crossing.
Teams will work through the night to get the road ready to reopen for drivers, pedestrians, and cyclists as soon as the upgrade is complete. A signed diversion will be in place throughout to help people get to their destinations.
Vincent Briggs, East Midlands Route Level Crossing Manager for Network Rail, said: "This essential work will allow us to reliably transport vital freight goods to and from the town's port for many years to come.
"We will need to close a major road into Boston to complete the upgrade safely, and I'm sorry for any inconvenience this causes. We'll be doing the work overnight and have worked with Lincolnshire County Council to keep the impact as low as possible."
Andy Lawrence, Port of Boston Director for Victoria Group, added: "The Port of Boston are delighted that the upgrade is taking place. It is great for the network connection we have from the Port of Boston and the 260,000 tonnes a year of cargo that we put over it. This enables us to keep lorries off the road and dramatically reducing our carbon footprint by utilising rail.
"Rail Freight was important for the Port in 1884, when it was built, and it remains equally, if not more important in 2022, and the future, as we strive to divert even more cargo to the rail mode of transport, direct from a seaport."
'Talk, not walk' says Network Rail in response to RMT vote for industrial action
Responding to the RMT's announcement that its members have voted in favour of industrial action, Andrew Haines, Network Rail's chief executive, said:
"The RMT has jumped the gun here as everyone loses if there's a strike. We know our people are concerned about job security and pay. As a public body we have been working on offering a pay increase that taxpayers can afford, and we continue to discuss this with our trades unions. We urge the RMT to sit down with us and continue to talk, not walk, so that we can find a compromise and avoid damaging industrial action.
"We are at a key point in the railway's recovery from the pandemic. The taxpayer has provided the industry with £16bn worth of additional life support over the last two years and that cannot continue. Travel habits have changed forever and the railway has to change as well to adapt to this new reality. We believe that by modernising – creating safer jobs for our people and operating the railway more efficiently – we can build a sustainable future with a railway that delivers for passengers and taxpayers.
"Any industrial action now would be disastrous for our industry's recovery and would hugely impact vital supply and freight chains. It would also serve to undermine our collective ability to afford the pay increases we want to make."
Passengers reminded of railway closure ahead of Commonwealth Games
The Chiltern main line between Dorridge and Birmingham Moor Street will be closed for four days next month as work continues to improve passenger journeys for the Commonwealth Games.
Crucial parts of the railway will be replaced between Monday 20 and Thursday 23 June as part of a £3m investment by Network Rail.
The work will overhaul switches and crossings – moving sections of track which allow trains to access and leave a critical train maintenance depot at Tyseley in Birmingham.
The depot is an important site for three train operators – West Midlands Railway, CrossCountry and Chiltern Railways.
Any issues there during the Commonwealth Games could cause delays across the region, including risking overcrowding at key stations serving sports venues.
Replacing the complex equipment now will help train services run smoothly during this summer's Games, which are expected to see more than one million extra passenger journeys across the West Midlands rail network.
The essential upgrades will impact the following routes and services between Monday 20 and Thursday 23 June:
On the Shakespeare line to Stratford-upon-Avon, there will be no trains between Birmingham Moor Street and Spring Road stations
On the Chiltern main line between London Marylebone and Birmingham, there will be no trains between Birmingham Moor Street and Dorridge
The four-day railway closure has been extended to Dorridge from Solihull – this allows better flexibility for the trains which will be running on the rest of the Chiltern main line.
Rail replacement buses will be in operation and people are advised to plan ahead at www.nationalrail.co.uk.
Denise Wetton, Network Rail's Central route director, said: "There's never an ideal time to shut the railway and a mid-week closure for work like this is rare, but after carefully reviewing recent passenger numbers on this route we've found it's the least disruptive time to make these essential improvements.

"These upgrades will benefit journeys across the wider West Midlands, providing passengers with an efficient, cleaner and more reliable railway throughout our major summer of sport. It will also help to reduce the risk of platforms becoming overcrowded as a result of the predicted one million extra passenger journeys during the Commonwealth Games."
Eleni Jordan, commercial & customer strategy director for Chiltern Railways, said: "Network Rail's crucial track replacement work between Monday 20 and Thursday 23 June will ensure that we can continue to provide a safe and reliable service for our customers across what is expected to be a busy summer on the railways in the West Midlands.

"We will be regularly communicating plans for rail replacement transport in and out of Birmingham. We advise that customers travelling during the closure check their journey on the Chiltern website or app before travelling."
Jonny Wiseman, West Midlands Trains customer experience director, said: "These essential works will make a real, long-term difference to passengers by improving access to Tyseley depot where trains are maintained, repaired and refuelled.

"I would like to thank our customers for their patience while this work is carried out and I urge passengers travelling during this period to plan their journeys carefully as revised timetables and rail replacement buses will be in operation."
Engineers and planners will make the most of the four-day railway closure to carry out a host of other work, including:
Installing new rails, sleepers and ballast (railway foundation stone)
Stressing rails to cope better with hot weather
Removing overgrown plants and graffiti
Carrying out a deep clean of Birmingham Moor Street station itself
Doing this work further reduces future disruption to passengers and provides a more reliable rail network not only during the Games but for many years to come.
It will also save millions of pounds of taxpayers' money as doing this work outside of a full railway closure would normally take place over multiple weekends over an entire summer.
Passengers are being advised to check before they travel at www.nationalrail.co.uk.
Network Rail staff deliver vital equipment for Ukrainian railway
Network Rail staff have come to the aid of rail colleagues in Ukraine after delivering a convoy of vehicles loaded with equipment to help keep the Ukrainian railway running.
Ukrainian Railways, Ukrzaliznytsia, requested help from the international railway family via the International Union of Railways (UIC). They needed equipment and spares to help keep their railway running to provide vital evacuation routes and humanitarian aid following the invasion by Russia, all while facing significant damage to railway infrastructure and obvious safety risks for workers.
Helped by partners in the supply chain, Network Rail heeded the call and donated four vehicles, loaded with spares and railway tools including generators, drills, jacks and cutting equipment. They were delivered on 16 May.
Allan Spence, Network Rail's director of regulator liaison, said: "We didn't hesitate when the request for help came through. We often talk about the railway family here in Britain, but the family has international connections too. Anyone who has watched the news over the last few months has been moved by what they've seen and that spurred us into action.
"We took the vehicles loaded with much needed equipment, to a depot near the Polish-Ukrainian border. We had lots of help along the way – like complimentary travel through the channel tunnel, radios loaned by High Motive and help to get back from Polish Railways (PKP). And the loads we took included lots of kit from our contractors."
Transport Secretary, Grant Shapps said: "It's inspiring that Network Rail have used their knowledge and expertise to help keep the Ukrainian railways moving by providing vital equipment and aid for their evacuation routes.
"Our fantastic transport network continues to demonstrate huge amounts of support and generosity to those fleeing Putin's brutal invasion."
Five Network Rail staff drove the four vehicles through six countries, covering some 2,000km in three days to Poland. However, the final part of the journey, across the border into Ukraine, is being managed by Polish Railways.
This is not the first time that Britain's railway industry has come to the aid of Ukraine. Earlier in the year UK Rail for Ukraine brought together a train-load of humanitarian aid donated from many businesses to help the many displaced and at-risk victims of the war.
Lime Street station passenger advice for Liverpool FC victory parade
Liverpool FC fans planning to travel to the city by rail for this weekend's victory parade are being advised to check before they travel as Lime Street station will be extremely busy.
Thousands of people are expected to descend on the city centre to celebrate both the Carabao Cup and FA Cup titles, and potentially triumph in the Champions League too.
Whatever the outcome of Saturday night's final, players will parade along a 13.5km route through the city centre starting at 4pm on Sunday 29 May.
Network Rail is advising people planning to travel by train of a number of factors which all add up to make rail journeys into Liverpool city centre challenging this weekend.
Ongoing strike action this Sunday (29 May) means there will be no Transpennine Express services to or from Lime Street station.
Added to this, railway improvement work elsewhere on the network means no East Midlands Train services will be serving the city either.
As a result Avanti West Coast says it expects its trains to be very busy and it will be prioritising passengers with reservations.
And further down the line in Warrington, Northern services are expected to be busy due to the Neighbourhood Weekender, with the train operator urging festival-goers to check their last trains home.
So Network Rail's advice on Sunday 29 May is:
Plan your journey – especially how you will get home – at www.nationalrail.co.uk
Allow extra time – long queues to access platforms are expected
Don't rely on later trains home – they will be limited and very busy
Remember Network Rail's motto of 'Be safe, be patient, be kind' when travelling
Additional staff will be on hand at Liverpool Lime Street station to help passengers this weekend.
The station team has been preparing for the thousands of extra people expected with queuing systems in place to keep passengers safe.
Kyla Thomas, Liverpool Lime Street station manager, said: "While it's great the city will come together in celebration of Liverpool FC's incredible 2021/22 season, we need to let passengers know what to expect if they're thinking of travelling through Lime Street station this weekend.

"Strike action and the sheer volume of people will mean the station will be extremely busy. Please plan ahead and know what train you want to catch there and back before the day of the parade. Secondly, allow more time than you might do usually to get on the train – there will be long queues. And thirdly, please respect each other and our staff while travelling – we want everyone to enjoy the victory celebrations free from any bad behaviour."
To manage crowds during the busiest times Merseyrail is planning to close some city centre stations.
Due to the large numbers of people expected, the following stations will be closed all day on Sunday 29 May.
Lime Street Lower Level
James Street
Green Lane
Bromborough Rake
Capenhurst
Passengers are also being advised to buy their tickets in advance to avoid having to queue on the day.
For more information and latest passenger advice visit the Merseyrail website here.
To get full details of the parade route and advice from the football club, visit Liverpool FC's website here.
GWR honours WWII codebreaker Alan Turing and unveils new 'Trainbow' livery
Great Western Railway (GWR) has honoured World War Two codebreaker Alan Turing by including his name on its popular 'Trainbow' Intercity Express Train.
Members of Alan's family officially named the train at London Paddington station today (Thursday 26 May). The ceremony also saw the unveiling of GWR's new 'Trainbow' livery celebrating the LGBTQ+ community.
Alan famously led a team in 'Hut 8' at the Government Code and Cypher School (GC&CS) at Bletchley Park, Britain's codebreaking centre during the war.
In 1942 he and his team cracked the vitally important and most difficult German Naval Enigma. His work in the field of computer science was groundbreaking and paved the way for modern computing.
Alan is also an admired role model within the LGBTQ+ community and his legacy has helped change social attitudes in Britain.
Although laws during the 1950s made it illegal for him to be openly gay, Alan did not shy away from his sexuality. He was arrested for gross indecency which resulted in a sentence of chemical castration.
Two years later Alan died of cyanide poisoning. Following the launch of an internet campaign in 2009, he was granted a posthumous royal pardon four years later. A subsequent legal amendment, known as 'Turing's Law', pardoned 65,000 other convicted gay and bisexual men.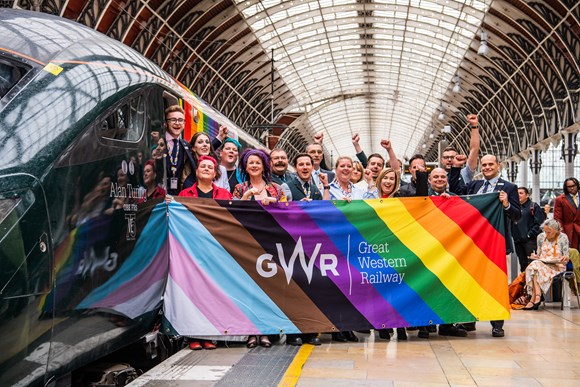 'Trainbow' was first unveiled in 2018 to support Pride events across the network and demonstrate GWR's support for the LGBTQ+ community.
Its livery has now been updated to include black, brown, light blue, light pink and white, bringing focus on inclusion for trans individuals, marginalised people of colour and those living with HIV/AIDS.
For B-roll footage of today's ceremony please email john.carter1@gwr.com
Intercity Express Train 800008 also pays a nod to the World War Two codebreakers and their mastery of palindromes. And, as you might expect with something related to Alan Turing, there is more to the design of the new livery than first meets the eye.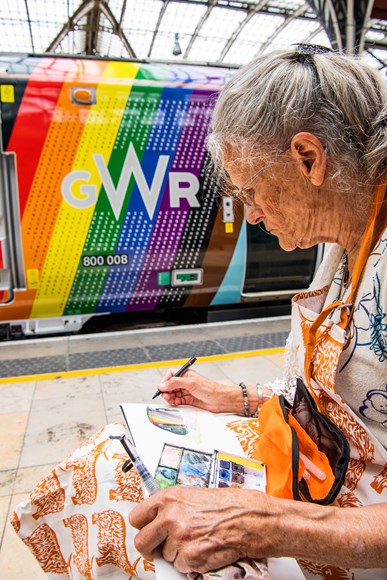 Alan's niece, Inagh Payne, speaking on behalf of the family, said:
"Alan was very special to us and we are so incredibly proud of everything he did. Despite not being fond of neither fuss nor social occasions, he would have been delighted to have a train named after him.
"We have our own fond memories of him as a loving and caring uncle and it is wonderful to see this tribute to him, and that he is remembered, and his life celebrated by so many people."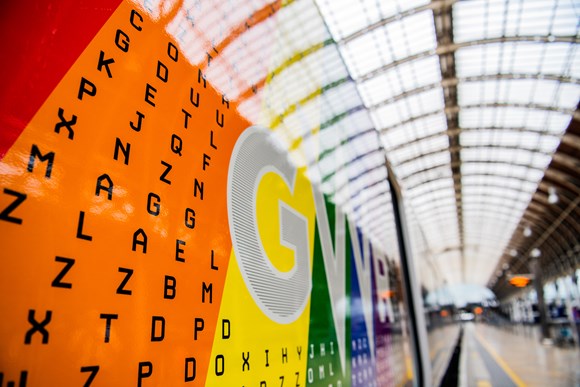 GWR Managing Director, Mark Hopwood, said:
"It is an honour for us at GWR to name this Intercity Express Train after Alan Turing as we continue to remember those who gave so much during World War Two.
"We at Great Western Railway have a long history of naming trains after Great Westerners, the past and present heroes from across our network.
"It is also great to see this fabulous new Trainbow livery, celebrating not only Alan Turing but also the LGBTQ+ community across the GWR and indeed our colleagues within the rail industry."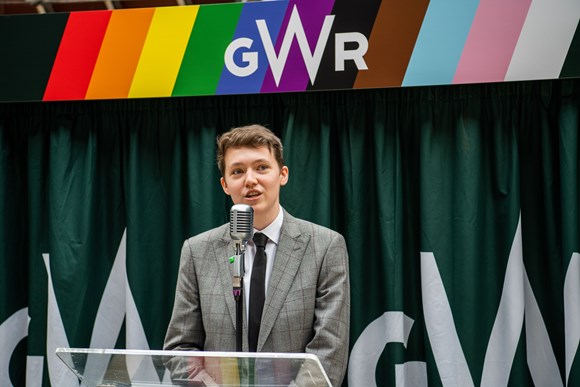 Plymouth City Councillor for Compton, Cllr Dylan Tippetts, said:
"Thank you so much to GWR for always standing with the whole LGBTQ+ community and celebrating our diversity; the things that bring us together and not those that divide us."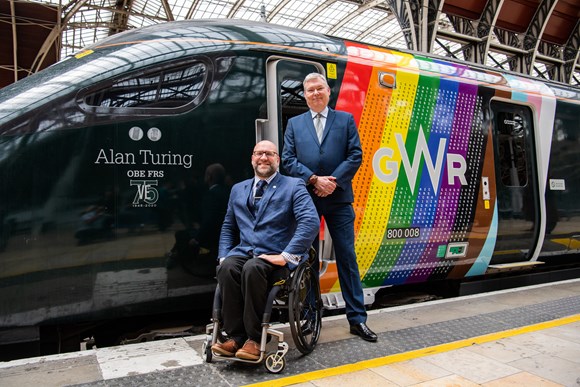 Research Historian at Bletchley Park, Dr David Kenyon, said:
"It gives me great pleasure to add the endorsement of Bletchley Park Trust to the naming of this locomotive. We hope that it will remind travellers of Turing himself, but also of the thousands of others who worked alongside him to bring signals intelligence to Allied commanders and help bring victory in the Second World War."
GCHQ Historian Dr David Abrutat said:
"Turing's scientific genius helped to shorten the war and influence the technology we still use today. Today illustrates his status as one of the most iconic LGBT+ figures in the world.
"Turing was embraced for his brilliance and persecuted for being gay. His legacy is a reminder of the value of embracing all aspects of diversity, but also the work we still need to do to become truly inclusive."