Manchester to get 21st Century signalling overhaul over Queen's Jubilee weekend
Over the Queen's Platinum Jubilee Bank Holiday, Network Rail will complete a major signalling overhaul in Manchester to modernise journeys into the city.
A 132-year-old signal box near Philips Park will be removed, with control of the signalling equipment moving to Manchester's state-of-the-art rail operating centre. Signals are like traffic lights for trains and bringing them into the 21st Century will help more trains to run on time between Manchester and Stalybridge.
As well as this colossal signalling upgrade, which will see 29 new signals installed, the wider project will also see Network Rail replace almost 4000m of track and secure over 2800m of train-powering electric cable. This will all mean that the railway remains safe and reliable for years to come.
More than 450 engineers will work around the clock from Thursday 2 June, ready for the railway to reopen for passengers on Monday 6 June. People needing to travel between Manchester Victoria and Stalybridge during this time should plan ahead and check their journey with National Rail Enquiries to keep their plans on track.
This is part of the multi-billion-pound Transpennine Route Upgrade which will bring faster, more reliable services for passengers travelling between York, Leeds and Manchester.​​
Neil Holm, Transpennine Route Upgrade Director for Network Rail, said: "This major investment will unlock more reliable journeys for rail passengers in Manchester, as well as the potential for faster trains in the future.
"I know that people will be travelling across the country to celebrate the Queen's Platinum Jubilee, so I'm sorry if our work impacts their plans. We've worked with our train operating partners to plan alternative routes and bus replacements to keep disruption to a minimum."
Chris Nutton, Major Projects Director for TransPennine Express, said: "This is another key step for the rail industry towards delivering a railway fit for the 21st Century and the work over the Jubilee Bank Holiday will help deliver better reliability for our customers.
"Due to the major engineering work taking place, there will be a number of service alterations for TransPennine Express services. Our customers are advised to allow for additional time for journeys and to check carefully for the latest advice before they travel. Ongoing strike action by the RMT union will also affect services on Saturday 4 and Sunday 5 June, and we are urging people to avoid travelling on our services on those dates and to travel either side of the weekend instead."
Chris Jackson, Regional Director at Northern, said: "This is another big milestone for the improvement of the railway in the north. Alongside this there are other projects taking place over the extended weekend and with large events and potentially nice weather taking place, we urge customers to check before they travel so they can plan their route."
It comes as progress continues on a major scheme to raise the height of two bridges – Granville Street and Southampton Street – so that electric wires can eventually pass beneath them. Clearing the way for a fully electrified railway between Manchester and Stalybridge will ultimately give passengers a cleaner, greener way to travel.
Step-free footbridge to revitalise rail journeys in Selby
An upgraded, step-free footbridge will make it easier for rail passengers in Selby to travel by train – Network Rail will begin work in August 2022.
Accessible lifts will be added to the Grade II listed footbridge – which will also be strengthened – allowing those with limited mobility, pushchairs or heavy luggage to comfortably catch a train from any of the station's three platforms.
Passengers who need assistance can currently only access platforms 2 and 3 via a crossing over the tracks when station staff are available*. The upgraded footbridge will give travellers more independence and improve the overall experience.
Matt Rice, Route Director for Network Rail's North and East Route, said: "When the new lifts are in place, rail passengers in Selby will have the freedom to access all platforms at all times and enjoy hassle-free journeys.
"While step-free access is a must-have for the future of the railway, we also know how important it is to preserve our heritage. Strengthening the footbridge will make sure the station's iconic style is kept intact for years to come."
The final designs for the Access for All scheme – which is funded by the Department for Transport – began in January after receiving listed building consent from Selby District Council.
Nigel Adams, Member of Parliament for Selby and Ainsty, said: "Improving access to Great Britain's railway stations is a key priority for this Government; we want all passengers to be able to travel easily and confidently.
"Having supported the application for funding to upgrade Selby station from the outset, I am delighted that work will start soon. The upgrade will be done sensitively and will incorporate the iconic footbridge. Selby station is one of the 73 stations that received funding in 2019 as part of the Access for All Programme."
Rail Minister Wendy Morton said: "Our amazing rail network is for everyone, so it is great to see these Access for All funded upgrades being rolled out at Selby, ensuring easy, comfortable journeys for all passengers.
"Locals will also welcome the fact that the work done by Network Rail means they will be able to enjoy this beautiful footbridge for years to come."
Kathryn O'Brien, Customer Experience Director, said: "The upgrade work at Selby station is fantastic news for our customers.
"The accessibility of our services is very important to us, and I'm sure the step-free footbridge and accessible lifts will come as welcome news to those with additional mobility requirements and those travelling with young children and luggage.
"We will be working closely with Network Rail to keep disruption to a minimum when work begins in August 2022."
A temporary footbridge will allow passengers continued access to all platforms throughout the project until its completion in April 2023, with no impact on train services.
Rail volunteers join forces for Bere Alston station spring clean
Volunteers from Network Rail and GWR recently joined forces with Devon and Cornwall Rail Partnership and students from Plymouth University to give the disused platform and old signal box at Bere Alston station in west Devon, a much-needed spring clean.
The local Scout group will be using the platform to plant and grow flowers, making the station brighter and more welcoming for passengers while developing their gardening skills and learning about biodiversity. The old signal box will be used as a potting shed, and as the volunteers discovered, a good place to shelter from the rain.
The team braved the spring showers to spruce up the platform area and tidy up the old signal box, which closed in 1970 but had been used as a work space by a railway maintenance team until the 1990s.
The Community Rail Partnership has previously carried out renovations on the signal box, painting the exterior and taking old materials away. The volunteers removed unused furniture from the signal box and overgrown vegetation from the platform, ensuring that the site will be safe for the Scout group to start planting in the near future.
Máedóc Ellis, Network Rail customer support manager (community rail), said: "It was great to see representatives from the different organisations work together to make sure the unused areas of Bere Alston station were neatened up and ready for the arrival of the Scout group.
"Supporting community projects means that we can work alongside local residents to improve public spaces, creating a welcoming environment for our passengers.
"I can't wait to see how the Scouts get on with their gardening projects and hope to continue supporting their endeavours."
Rebecca Catterall from Devon and Cornwall Rail Partnership, who helped coordinate the volunteers, said: "It was a great day, albeit a wet one, but everyone pulled together and worked incredibly hard. I am sure users of Bere Alston station will notice a difference."
Petts Wood station in South East London about to get a lift – four in fact – to make the station fully accessible for the first time
A major £10.8m scheme to make Petts Wood station, South East London, fully accessible for the first time is about to get underway.
The work, funded by the Department for Transport's Access for All scheme and delivered by Network Rail and its partners BAM Nuttall, will start late May and should finish in autumn next year (2023).
Network Rail's route director for Fiona Taylor said: "This is such an exciting project for us and a big one too. We know there's a long way to go to make our railway accessible for everyone, but every one of these schemes helps us take a great step forward.
"There will be some changes to the way the station operates while we do the work, including the creation of a temporary staircase to access the ticket office, but it will continue to be open and trains will run throughout the work. I'm grateful to everyone's patience while we're working in their community and can't wait to open the lifts next year!"

Southeastern's Passenger Services director, David Wornham, said: "We're always wanting to do more for our passengers and this investment at Petts Wood by the DfT will make a huge difference to people who use this key station on our network. When the four new lifts are fully installed next year, the station will be more accessible to a wider group of people, and we're looking forward to seeing the project completed."
The four new lifts will be built to serve the whole station, with one serving the main entrance in Station Square, one lift each on platforms 1/2 and 3/4 and the fourth lift serving the Western Approach entrance. Passengers will also see platforms extended to create new space for them to access the lifts safely and with plenty of room.
There will be changes to the station car park during the project, with some spaces used for access and site compounds.
EMR refresh Intercity fleet: New seat covers, toilet interiors and special anti-bacterial protection
5300 seat covers to be refreshed or replaced
Class 222 Intercity train toilets given new interiors 
First train operator to use new state-of-the-art anti-bacterial product
East Midlands Railway (EMR) has begun a project to refresh the interiors of its Intercity fleet – including replacing seats, toilet interiors and covering surfaces in a new special anti-bacterial cleaning product.
The work will be carried out at Derby's Etches Park depot and will see 5300 seats being refreshed, including new back covers, seat cushions, headrests and arm rests – while a number of seat covers will also receive deep cleaning by a specialist company. 
The toilet refurbishment in all 27 of EMR's Class 222 Meridian trains has already been completed, providing a series of improvements to give a better experience for customers.
These improvements include walls being painted, a new vinyl applied to door panels, the replacement of damaged fixtures, as well as the Call for Aid units and mirror surrounds being resprayed. Sinks have also been polished and buffed, while the baby changing areas have also been improved.
As part of this work, EMR will be the very first train operating company in the UK to use a new cleaning product which makes surfaces easier to keep clean and works continuously to reduce the growth of bacteria.
The Cotech Biosafe product, which includes a special technology called Microban antimicrobial protection, will be applied to toilet surfaces to enhance hygiene and bring peace of mind to customers.
Cotech Biosafe is the longest-lasting coating of its kind currently on the market, protecting a surface for around seven to 10 years and does not require monthly reapplications like other similar products.
The special product is supplementary to the regular cleaning programme that is already in place on the trains.
Neil Bamford, Fleet Director at East Midlands Railway, said: "As we await the introduction of our new Aurora fleet, we want to ensure our current Intercity trains offers customers a clean and inviting interior.

"Following an audit, we have identified a number of seats that fall below our standards, and we are working hard to replace them.
"Likewise, we wanted to refresh the toilets and make sure we are using the latest products available on the market to maintain cleanliness."
Transport for London and Global reveal new advertising sites at landmark Elizabeth line stations
As London prepares for the historic launch of the brand-new Elizabeth line on 24 May, Transport for London (TfL) and Global, the Media & Entertainment group, today reveal 329 new state-of-the-art advertising sites along the line – the largest launch of digital advertising assets at one time on the TfL network.
The transformative Elizabeth line service, stretching from Reading and Heathrow in the West to Shenfield and Abbey Wood in the East, provides advertisers with new opportunities to present campaigns in impactful and unique ways, within bright, spacious and accessible environments unlike any others on the network.
Once open, the Elizabeth line will add ten per cent to central London's rail capacity and have an estimated 170m passengers a year by 2026.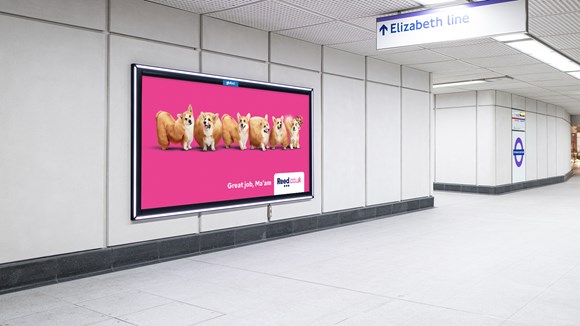 At the heart of the new line are the central stations – Paddington, Tottenham Court Road, Farringdon, Liverpool Street, Whitechapel, Canary Wharf, Custom House and Woolwich – all of which have been built with advertising embedded in their design.
Google, MoneySuperMarket, Reed.co.uk, Sage and Schweppes are the first brands to advertise on the new Elizabeth line.
With a focus on creating extensive digital opportunities for advertisers, the new stations feature seven pairs of unmissable, full motion enabled Digital Ribbons and 16 new-format Digital Runways – made up of 234 platform edge screens – which are exclusive to the Elizabeth line.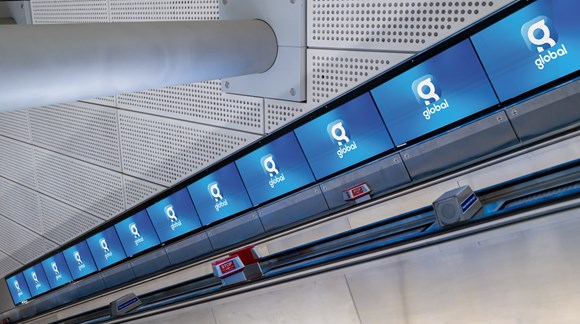 There are also four brand-new, high impact, ultra-HD Digital Gateway screens, including one that measures 28m² over the escalators at Tottenham Court Road, and 32 new digital billboards (D6s) which have been installed in high-visibility locations such as ticket halls and corridors.
Mike Gordon, Chief Commercial Officer at Global said: "We're delighted to be part of this historic launch with TfL and all our advertising partners. The Elizabeth line will transform the future of London's transport and connect millions of people to the heart of the city faster than ever before.
"For brands looking for a platform, the breath-taking, spacious, modern stations are unlike any other transport environment in the UK, providing an enormous digital canvas to truly stand out and reach vast audiences."
Chris Reader, Head of Commercial Media at Transport for London, said: "This is the most significant addition to London's transport network in a generation and we are thrilled to be offering brands yet another exciting opportunity to reach new and existing audiences on our transport network. With a range of impressive formats available, we are excited to see how advertisers will use our new assets to push the boundaries of creativity and innovation with their campaigns."
Lis Blair, General Manager, Insurance, Marketing and Customer at MoneySuperMarket, comments: "As soon as we saw the unique and highly impactful digital opportunities the Elizabeth line offers, we knew it was the perfect environment to showcase our latest MoneySuperSeven campaign. We're thrilled to be one of the very first brands to appear in this innovative space."
Adam Faquirbhai, Marketing Director at Reed.co.uk said: "To be part of the launch of the brand new Elizabeth line was really a once-in-a-generation opportunity for us. The exciting new ad placements will help showcase our bold new Platinum Jubilee-inspired creative in a fun and innovative way, and allow us to help people across the capital Love Mondays."
Kirsty Waller, VP Customer Marketing, Sage, said: "We've chosen to showcase our refreshed branding via a sweeping digital campaign throughout the exciting new Elizabeth line stations in London. This will help bring to life our new brand, which shows the importance of removing friction so businesses can flow."
Louise Maugest, Marketing Director at Coca-Cola Great Britain, added: "We're thrilled to be celebrating the opening of the Elizabeth line by being one of the first brands to advertise in this space. Our Schweppes campaign will appear on the digital screens, encouraging people to raise a toast to celebrate this exciting cultural moment."
The new digital billboards located at all Elizabeth line stations will be added to Global's outdoor inventory available on its digital advertising platform, DAX, allowing advertisers to buy data-driven campaigns across digital outdoor and digital audio.
Farewell tour for 40-year old train fleet raises £26,000 for mental health
The final run by a train in Southern's now-retired 40-year-old Class 455 fleet has raised over £26,000 for the mental health charity Mind.
To round off a programme of activities in Mental Health Awareness week, Southern's parent company Govia Thameslink Railway (GTR) invited members of the public to buy tickets for a Farewell Tour on a specially-chartered 455, with proceeds going to the local Mind association for Croydon.
Representatives of the charity joined over 500 train enthusiasts on the day-long outing to promote their work to combat mental health issues and fill their collection buckets to support that work. A raffle, sales of books and badges and an auction of railway memorabilia further boosted the funds raised by ticket sales and cash collection.
The trip began and ended at London Victoria, meandering through South London, Surrey and Sussex for nearly ten hours. The itinerary took the train through more than 70 stations in South London, Surrey and included a lunch stop at Brighton.
Some three months ago, Phil Nacmanson and Antony Yandell of GTR's train operations management team came up with the idea to give the fleet a substantial send-off that would recognise its outstanding years of service. The dedicated railwaymen sounded out other GTR teams, and with their enthusiastic support recruited the well-known rail enthusiasts' tour operator 'The Branch Line Society' to market the tour as a charity fundraising event.
The Society also provided on-board stewards to look after passengers alongside the GTR staff on board. At least 25 individual GTR colleagues, from as far as York, Leeds, Birmingham and Portsmouth, pledged their time to plan and run the tour.
Southern chose Mind in Croydon as the charity beneficiary because the mental health and wellbeing it supports is one of the train company's key priorities for community relations activity, and the two organisations have been working together at East Croydon station in recent years on successful partnership projects initiated by Station Manager Ramla Abshir-Slevin.
Chris Fowler, Southern's Customer Services Director, said: "I'm very proud to have been part of this well-deserved send-off to mark the Class 455s' four decades of service, and delighted that the money raised for Mind was way above all our expectations.
"Many people played vital roles and deserve a huge thank-you – Phil, Antony and their operations management team, the train planners, engineers, station teams, colleagues at Southeastern and Network Rail, the Branch Line Society, our charity partners, and the hundreds of enthusiasts who joined us to make it such a special, successful day.
"We hope this event will be a springboard to further partnership opportunities with Mind in Croydon, working together on our shared aim to combat mental health issues and promote the importance of wellbeing in our communities."
Cara Cooper of Mind in Croydon said: "We're extremely grateful to GTR and everyone who made the day such a joyful and successful event. This phenomenal total of £26,000 is a wonderful achievement and greatly appreciated. We'll use the much-needed funds raised to innovate and create new and exciting projects and services supporting our mental health clients and their carers."
The Elizabeth line unveiled on latest London Tube map
New railway depicted on the map in purple for the first time with new stations and connections to the rest of the TfL network
Existing TfL Rail services become part of the new Elizabeth line from opening day
London Overground extension to new station at Barking Riverside included ahead of opening later this year
Northern line Bank branch reopened on schedule on 16 May following a 17-week closure for complex upgrade work
The latest Tube map has been unveiled with the biggest change in recent history – the addition of the Elizabeth line. Transport for London (TfL) has published the latest map that shows the new railway and its stations ahead of its launch on Tuesday 24 May.
Services on the Elizabeth line's new central section will run from Paddington to Abbey Wood through the tunnels beneath London constructed by Crossrail. This ground-breaking new route now appears on the iconic Tube map as a double purple line rather than a solid line to differentiate the Elizabeth line as a new railway as opposed to a London Underground line.
The Elizabeth line will initially run 12 trains per hour between Paddington and Abbey Wood, Monday to Saturday. New stations are now in the final stages of preparations ahead of opening to customers including signage and customer information.
To assist customers finding their way to or from the new stations, there have also been updates made to signage and wayfinding across London. The free TfL Go app will be updated to show the route as well as full accessibility information for users from launch day. Apps that use TfL's open data feed will show new station locations and entrances.
The existing TfL Rail lines from Paddington to Heathrow and Reading, and from Liverpool Street to Shenfield become rebranded as part of the Elizabeth line from day one of opening and are also displayed on the map in Elizabeth line purple. Customers will initially be required to change at Paddington and Liverpool Street to access Elizabeth line services in the new central section.
All stations on the Elizabeth line will be step-free by the end of this year, with work continuing to provide lifts at Ilford and Romford stations. Stations from Paddington to Woolwich and at Heathrow provide level access from platforms to trains, which is reflected on the map.
The new Barking Riverside station on London Overground has also been added to the map. The extension from Barking to Barking Riverside will provide the area with new public transport links, improving connectivity and accessibility in the area when it opens in autumn.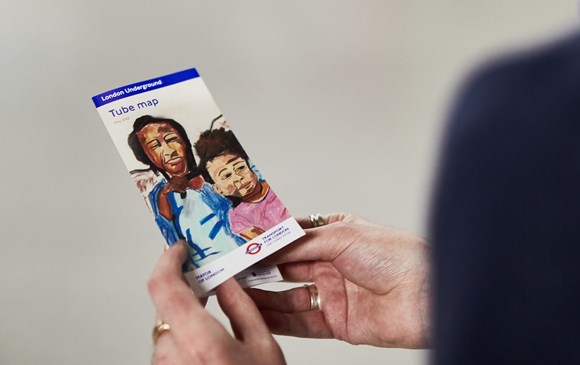 Julie Dixon, Interim Customer and Revenue Director, said: "Our world-renowned map now has another iconic addition in the Elizabeth line, which will serve London and the south east for hundreds of years to come. When we open on Tuesday 24 May, the new Elizabeth line will begin providing greater connectivity and step-free access from Reading and Heathrow to Shenfield and Abbey Wood through the centre of London. 
"This latest Tube map is a real credit to the team who have put it together. It has been both a challenge and a privilege to update Harry Beck's original design to literally put a new piece of transport history on the map. This latest version takes into account a number of wider changes to the transport network, but will ensure Londoners and visitors alike are able to navigate around our transport network with ease."
The Bank branch of the Northern line reopened on 16 May, this has been reflected on the map. The temporary closure enabled the completion of vital work on the new Northern line tunnel, platform and passenger concourse at Bank station as part of the Bank Station Capacity Upgrade. During this closure, work has also taken place on lifts and escalators, as well as refurbishment work at Borough and enabling works for the future Elephant & Castle Station upgrade. Harrow-on-the-Hill station, which became step-free in March 2022, has also been updated on the new map.
The front cover of the updated pocket Tube map has been created by London-based artist, Joy Labinjo. Her original artwork, titled 'Twist Out', captures an intimate mother-daughter routine as a mother is seen preparing her daughter's hair for a 'twist out' hairstyle, drawing on the artist's life experiences and memories as a British-Nigerian woman.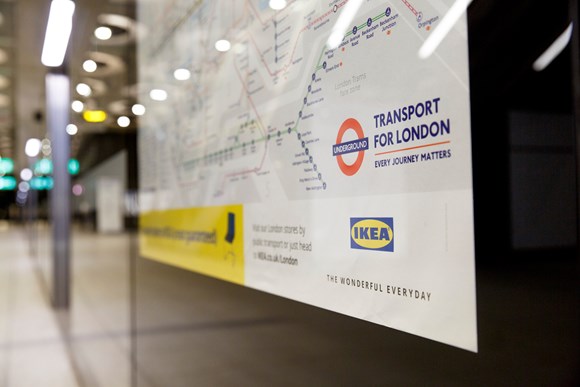 The new Tube map will also be sponsored by IKEA for the next 12 months, with markers showing the nearest public transport options to their stores. 
Michael Hawkins, London market area manager at IKEA, said: "As we create a more accessible and sustainable IKEA, we want to make it easier for our customers to visit us via public transport. Sponsoring the instantly recognisable design icon that is the Tube map will support customers in finding the easiest way to us."
Bond Street Elizabeth line station will open later this year. Work continues at Bond Street to complete the station for customers as soon as possible. There will be two entrances, one at Davies Street (providing interchanges with the Central and Jubilee lines) and one at Hanover Square.